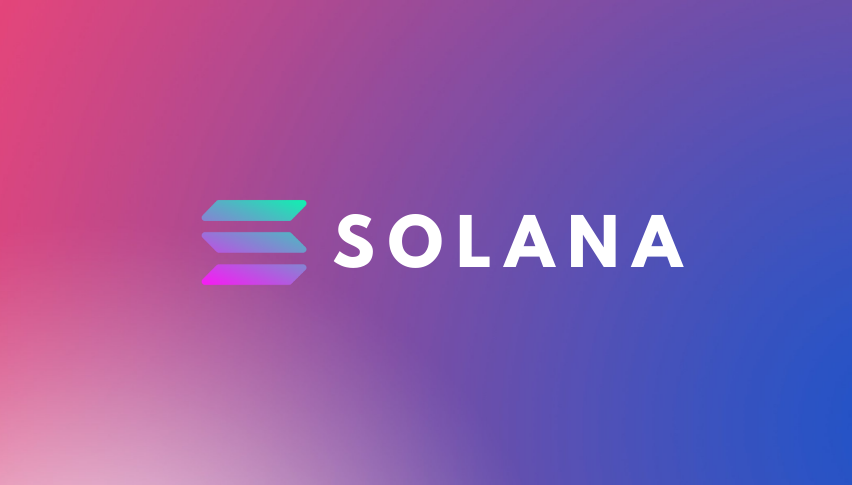 Possibly Another Leg Down for Solana (SOL)
It has been a week wrought with challenges for Solana (SOL) and the entire crypto market in general. The crypto space has been a sea of red, as a contagion of troubles from the global equity markets seems to be spilling over into crypto as well. 
Equity Markets Spill Over Into Crypto
Beginning with the possible default of China Evergrande in China, world shares and major indices plummeted, due to fears that this could pose a risk to the global economy as well. VIX, the CBOE volatility index that provides a common measure of fear in the overall equity markets, spiked to a high of 28.79 yesterday, before closing at 25.71. This was a 23.55% increase in one day! Bitcoin (BTC), which has yet to prove itself as a safe haven alternative to gold, was down sharply as well, trading at a low of 42,500, which meant a 10% loss in one day. 
DDOS Attack on SOL Network
Solana (SOL) has had its fair share of troubles, after rallying 500+% in less than 2 months. One major red flag was a DDOS attack on the Solana network last week, which caused a network outage that lasted more than 17 hours, starting on September 14. This caused SOL to fall below the first support level.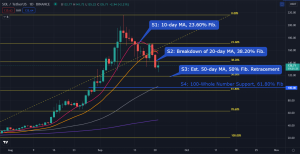 *SOL: Four Key Support Levels to Observe
In a previous article, I mentioned four key support levels to observe for Solana (SOL):
| | | | |
| --- | --- | --- | --- |
| Support Levels | Price | Description | % from ATH |
| 1 | 169-170 | 10-day MA, 23.60% Fib. | -22% |
| 2 | 140 | est. 20-day MA, 38.20% Fib. | -35% |
| 3 | 120 | est. 50-day MA, 50% Fib. | -44% |
| 4 | 100 | Whole Number, 61.80% Fib | -54% |
Two Support Levels out of Four Broken
At the time of writing, the catalyst for SOL's breakdown below the second support level has been a confluence of global financial risks, originating from the Evergrande default. SOL has now broken two of the four support levels, which might suggest another leg down for SOL, towards the third support level at 120, which is the estimated position for the dynamic 50-day moving average (gray line), where the 50% Fibonacci retracement level is currently sitting. 
Possible Scenarios for SOL
At this point, the most probable scenario for SOL would be a consolidation near Support Levels 3 and 2, creating a large base that could be a jump-off platform for a future rally in SOL. On the other hand we do not want to see SOL falling further and deeper towards Support Level 4, as this could mean a much longer recovery time for SOL. 
Lock-in your Profits!
If you were able to accumulate SOL at a low price, the first two support levels would have been excellent take-profit areas to lock in on your gains, as I advised in the previous article. Keep taking profits as each support level is broken, with Support Level 4 being the final take profit level, which means you should sell everything if the price of SOL falls below this level.