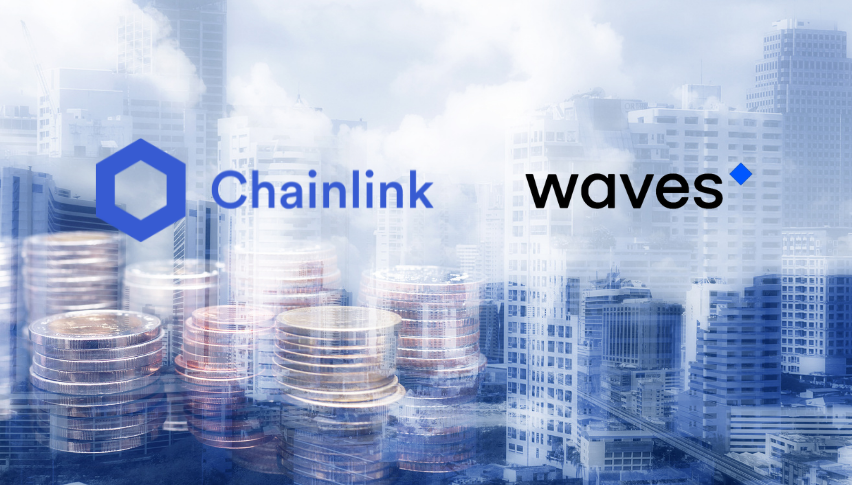 Buying a Retrace on Chainlink, Waves, as Most Cryptos Look Up
Posted Monday, October 4, 2021 by
Eric Nkando
• 2 min read
It's a fresh new week, and most cryptocurrencies are back on their previous bullish run. Who expected Axie Infinity (AXS/USD) to post a new all-time high, almost doubling in price in about two days of relentless bullish momentum? 
Well, that is the cryptocurrency industry for you, and the bullish run could just be starting now for the majority of the tokens. The bullish sentiment could have been boosted by a statement by the US Federal Reserve last week, saying that it will not ban cryptocurrencies, but will regulate stablecoins.
LINK/USD Trading Above Support
Chainlink, a crypto token that has struggled to push higher in the last few weeks, is now eyeing higher levels, following the improving crypto sentiment. But, at what point should you consider a buy?
LINK/USD – A 4-Hour Technical Outlook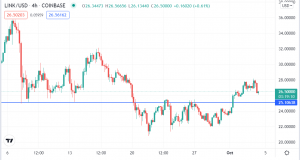 Looking at the 4-hour chart above, LINK/USD has remained subdued below the resistance, now turned support, at around 25. We can see that prices have broken down each time they have reached this level. 
However, on October 1, when other cryptocurrencies started surging, LINK/USD pierced through the resistance, which could now turn into new support. Although prices hit a high at about 28 over the weekend, it is now retreating. The crypto token is trading at around 26.5, and on its way down, potentially to the support level.
LINK/USD Trade Idea
I interpret the current retreat on LINK/USD as a minor price correction after the surge over the weekend. Therefore, I maintain a bullish view of the cryptocurrency, as long as it remains supported above the 25.0 level. 
Currently, I would monitor the LINK/USD retracement back or slightly above the 25.0 support and enter buy trades accordingly. My targets would be around 29.5, 31.5, or even 35.5, if the crypto sentiment supports prices.
Waves (WAVES/USD) Bounces from Support
After remaining on a downtrend up to the end of September, Waves (WAVES/USD) is now finding a new bullish momentum. Our previous outlook indicated a potential breakout from a descending triangle, as long as WAVES/USD remains supported above the 22.25 level. 
After a weekend of improving sentiment, WAVES/USD is now looking up. Currently, it is retreating from a high of slightly above 28. 
WAVES/USD – A 4-Hour Technical Outlook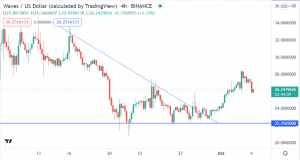 We can see that WAVES/USD is trading at around 26.2, after a short retreat, but a fresh bullish momentum is already underway. I would take the current retreat as an opportunity to buy WAVES/USD at a much lower risk to reward ratio.
WAVES/USD Trade Idea
I recommend a buy trade on WAVES/USD, based on the sentiment and the technical analysis above. However, I would prefer to wait for a further retreat down, preferably a 50% retracement to around 24.8.
Prices could still bounce off from the current level, and I would watch for price behaviour to determine the appropriate level to enter a buy trade. I would be keen on levels at 28.3, 30.5, and potentially, 32.5, as my take profit points. Happy trading!
Cryptocurrencies were showing strong bullish pressure in the first two months of 2023, but the bullish momentum has faded
7 months ago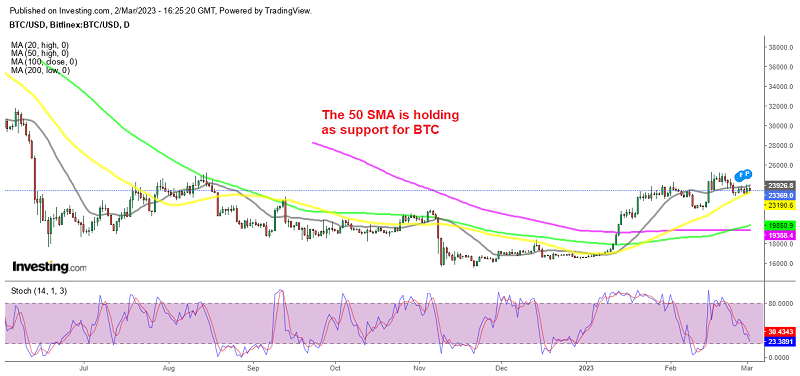 7 months ago