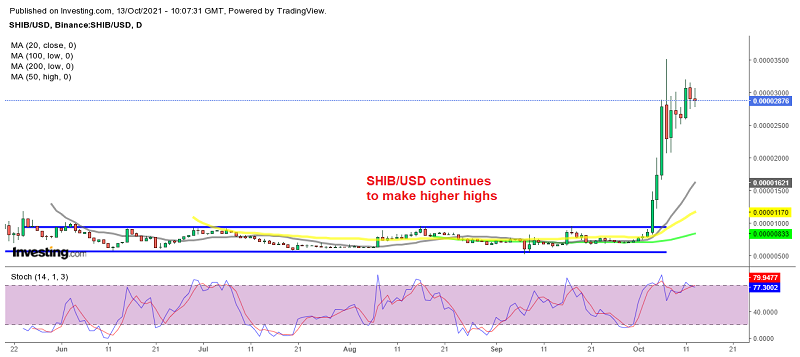 Shiba Inu Coin and Fantom Crypto Holding Onto Their Gains After the Surge
While early this year, most cryptos were moving higher as a group, in the last two months they have started to diverge, according to their characteristics. Some have remained stagnant, such as Litecoin, which has been trading in a range since June, a few have been making decent gains, while others have surged in recent weeks. Fantom and Shiba Inu coin are among the cryptos that have surged, so let's have a look to see where they stand now.
Shiba Inu Coin Daily Chart Analysis
Shiba Inu was one of the weakest cryptocurrencies during August and September, trading sideways at May/June lows, while the other cryptos had resumed the bullish trend, and some, such as Cardano (ADA), even made new highs. Shiba was trading between $0.0000058 (6 zeros) and $0.0000095 for months, without showing any signs of life.
This range was good to trade in itself, but the breakout finally came. Elon Musk's tweet about his Shiba Inu puppy Floki sparked the buying, while a major whale wallet was also spotted making a big purchase of Shiba coins. SHIB/USD surged to $0.000035 (5 zeros).
That's around the same level as the high from back in May after the surge, which was very similar to this one. It came after Elon Musk's tweet, and it attracted large whale investors. But, the difference seems to be the fact the Shiba is holding the gains now.
Back then, it gave back about half the gains in two days, and in just one week, it gave back 80% of its gains. Now, it's been a week since the surge, and the Shiba Inu coin is still trading near the highs, despite the slight retreat. So, this might be the next range for this coin, although the lows are getting higher, which means that we might also see some new highs soon.
Fantom Coin Daily Chart Analysis
Previous highs keep turning into support for Fantom 
Fantom coin has surged twice since the bearish period ended in July. It initially surged from around $0.15 to almost $2, until August, and after the retrade down ended at the previous high, the next surge came in October. The price surged again, from below $1 to $2.50.
Similar to Shiba Inu, the price started retreating, but then it began increasing again, and it is now also trading near the highs. The previous high from September has turned into a support zone, just below $2. So, according to the Elliott Wave Pattern, we should see the third bullish wave soon, which would take the price above $3. We might buy Fantom near this price, although our FTM/BTC signal is well in profit and remains open.