Solana (SOL): Consolidating Tighter and Tighter – Explosive Rally Very Soon
* SOL Daily Timeframe forming a large pennant
With Bitcoin (BTC) leading the cryptocurrency rally, after recently breaking $50,000 and now heading for $60,000 this week, we may be seeing Solana (SOL) following suit very soon. 
Last week, Solana (SOL) was subjected to a consolidation or range-trade bias, with its price movement appearing a lot tighter and much more restricted, after the all-time highs it reached in September. 
Contraction in Volatility and Volume
It is currently forming a very large pennant above the 50-day moving average (gray line), and nearing an inflection point, where it could either rally or break down in an explosive manner. Trading volumes have also been steadily decreasing day by day, which signifies that there is now decreased overhead supply coming into the market. The bears have slowed down on selling and the bulls have slowed down on buying, both waiting for more conviction before making a move. This type of contraction in volatility and trading volume is a typical behavior that is usually observed before an explosive move. 
Capital Flow 
Most traders will be observing this very closely, especially if Bitcoin (BTC) rallies further and then corrects. The flow of money from major cryptos would definitely trickle down to altcoins, which could drive price action. 
SOL Trade Idea: Buy the Breakout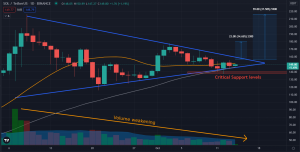 *SOL exhibiting a volatility contraction pattern
Volatility contraction patterns, such as this one, are the bread and butter of breakout traders. It presents a point of least resistance, where the risk-to-reward ratio is the greatest. What we are looking for is a breakout above the pivot point, with relatively good volume. 
Buy:                           160 
              (buy in tranches near this area: 157-160)
Stop Loss:                140 
              (careful if it closes below the 50-day moving average, possible breakdown to 100-120 levels) 
Targets:
Short-term:   180
Mid-term:      200-216 (all-time highs)
VAR:                         1.00 (risk only 1% of your portfolio)
RRR:                         2.00-2.80 
Remember to wait for the price to move up above 157 at least, before entering a tranche. Do not place a trade before it moves above the pivot point. Anything can happen in the markets, and a breakdown could still occur, as long as it does not move up and rally.