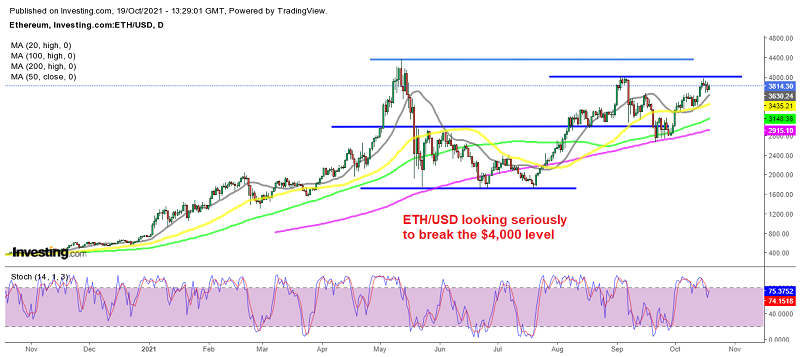 Ethereum, Ripple Price Prediction – Time to Move Up in ETH After Sticking Below $4,000 Too Long, Ripple Tightening the Range
Ethereum and Litecoin were behaving very differently during the crypto surge in the first several months of this year and during the sevcomnd bullish phase in the crypto market during August. But, since September these two cryptos have diverged. Ethereum has been showing resilience once again, especially in October, while Ripple coin hasn't shown many signs of life.
Ethereum and Ripple both increased around 250% since late July when the bearish momentum in the crypto market ended and they both retreated lower in September. But while Ripple coin fell below all moving averages on the daily chart, Ethereum found solid support at the 200 daily SMA, as seen from the chart above.
bounced off that moving average, moving above all of them and then the 50 SMA (yellow) turned into support on this timeframe chart. Now, the price has been sticking to the $4,000 level for quite some time. This sort of price action tells us that there's not much rejection at all and Ethereum will push above this major level soon, since it has been among the most bullish cryptos lately.
Ethereum Weekly Chart Analysis – Bouncing Off the 20 SMA
The weekly chart paints a bullish picture for Ethereum as well. We see that after the retreat in May and June, Ethereum formed a base around $1,700 and increased above $4,000. But in September we saw another retreat lower which took the price down to the 20 SMA (gray) on this time frame. Now, the price has bouncced off this moving average once again and it is trading close to the $4,000 level as we mentioned above. So, it seems like this level will go soon and the price will also reach the all-time high ATH soon.

Two important resistance levels standing just above 
Ripple Coin Price Forecast
Ripple coin on the other hand hasn't shown much will to push higher. XRP/USD has been very slow to make gains since the September decline. The price has moved above moving averages, but we see strong selling pressure everytime the price climbs above $1.20.
The Ripple Labs Vs. SEC (Securities and Exchange Commission) legal battle jhas been keeping Ripple undec control, not allowing it to make major bullish moves, as traders wait for the outcome. So, a triangle has been forming here, as the price of XRP bounces up and down and the range gets narrower. There should be a breakout soon and I think that the upside is more favourable, but let's see when that move comes.
  A breakoout expected in Ripple coin soon
Cryptocurrencies were showing strong bullish pressure in the first two months of 2023, but the bullish momentum has faded
3 weeks ago