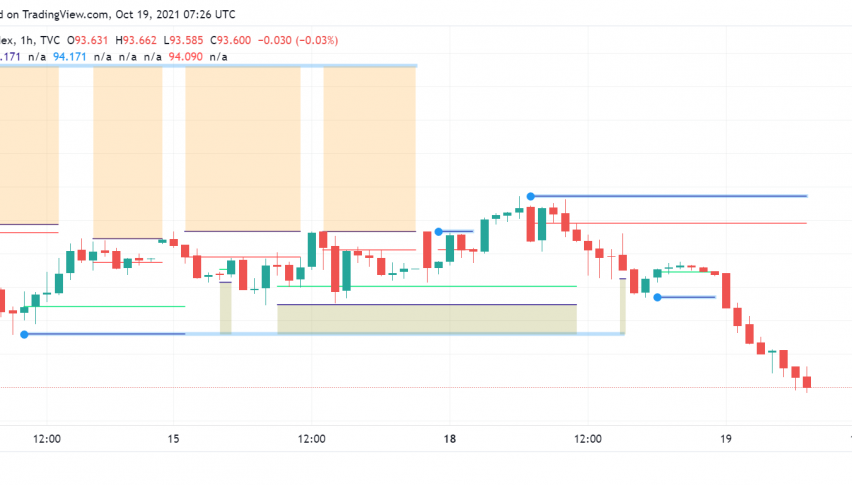 US Dollar Under Pressure Amid Weak Data, Improved Risk Sentiment
The US dollar's weakness extends into Tuesday, bringing its recent rally to an abrupt halt, after weak economic data from the US exerted further pressure on the currency even as investors weigh the possibility of other central banks tightening their monetary policies soon. At the time of writing, the US dollar index DXY is trading at around 93.59.
The dollar index ended the previous session down by 0.05%, sliding close to the lowest levels seen in three weeks. The bearish moves were triggered as recent data points to high inflation turning into a growing concern not just in the US but also other countries around the world, raising concerns that the Fed may not be the only central bank planning a rate hike or other monetary tightening measures soon.
This caused the greenback to lose some of its edge against other leading currencies. The reserve currency had been strengthening ever since Fed officials hinted at the possibility of implementing rate hikes starting as soon as next year, which would make the US central bank one of the first among the big ones to overturn its dovish mood. However, the BOE governor also cautioned that his central bank may need to act soon to offset the surge in prices while New Zealand registered a strong pick-up in inflation and raised expectations for faster normalization of monetary policy post-pandemic.
This led to short-term bond yields in the UK and New Zealand to rise, weighing on the appeal of the US bond yields and currency, and driving investors away from the greenback since the beginning of this week. Bond yields across Europe and Australia also registered a sharper increase than in the US, exerting further downward pressure on its currency.
The US dollar was also feeling the pressure from a pick-up in risk sentiment across global financial markets, which drove investors away from its safety towards trading riskier instruments. In addition, further weakness was triggered after manufacturing production in the US posted a 0.7% decline in September after a revised decline by 0.4% in August, hit by shortage of semiconductors and other supply chain bottlenecks.