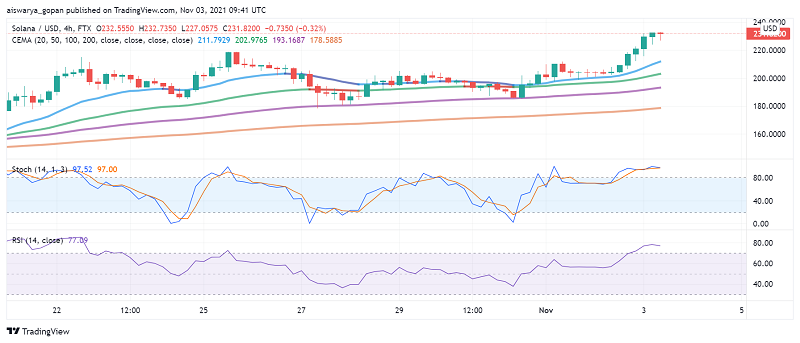 Solana (SOL) Rallies But Slips Back After Briefly Overtaking Cardano in Market Cap
Solana (SOL) is making strong gains above the $200 level and is certainly one of the biggest drivers powering the altcoin rally and offering the most promise as a potential Ethereum killer, attracting high level of interest from investors as well as developers. At the time of writing, SOL/USD is trading above $231.
According to the latest CoinShares data, Solana's popularity among institutional investors is going from strength to strength – rising up to nearly $15 million last week and making it the third most popular crypto among the large investors. A similar uptick in interest among institutional investors is reflected in the performance of Valour's Solana ETP which was launched recently and has gone on to become the company's fastest growing product till date.
The surge in Solana's prices have driven up its market value, helping it rise briefly to the fifth position among cryptocurrencies, although a rally in Cardano made it slip back down to the sixth rank again. Of course, the brief rise in rankings was also fueled by prolonged weakness in Cardano's price; although, SOL enjoys support from rising adoption of the blockchain among projects.
On the fundamentals front, Solana's ecosystem is turning into an attractive option for NFTs. The most recent addition is a partnership between electronic music artist Deadmau5 and metaverse studio Looks Rate for the launch of a new NFT collection on the blockchain. Created by abstract artist Gregory Siff at the Red Rocks Music Festival in Colorado later this week, Looks Rare will convert his works into NFTs on the spot and give fans to own both physical art as well as digital collectibles of his work. Another interesting NFT collection which dropped on Solana recently is "Baby Blobs" – featuring over 8,000 interactive blob NFTs.
Meanwhile, the ultra-high speed blockchain is also making its mark in the GameFi space. One of the leading online casinos in the world, CryptoGames, launched recently, bringing popular casino games such as dice, blackjack, roulette and more into the Solana ecosystem. Users can now use the blockchain to play casino games using 10 cryptocurrencies, including BTC, BCH, ETH, LTC, DOGE and of course, SOL as well.
SOL/USD Technical Analysis
On the H4 chart of SOL/USD, moving averages and the MACD are suggesting a strong bullish bias. Although, other leading technical indicators Stochastic, RSI and momentum are in the sell zone.
Solana's price has shot past the pivot point at $200.04 and has overcome the first resistance level at $221.52. The next obstacle buyers will face as they take SOL higher is the second resistance at $240.40, so keep a close watch on this level.
Cryptocurrencies were showing strong bullish pressure in the first two months of 2023, but the bullish momentum has faded
2 weeks ago