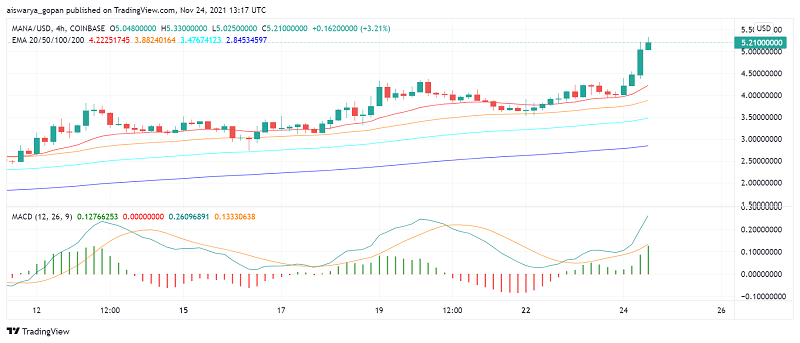 Decentraland (MANA) Rises After Tokens.com Purchases Virtual Land
Looks like the bearish mood in the crypto markets is finally lifting and one of the promising gainers we look at today is popular meta coin Decentraland, which has broken into the top 25 cryptocurrencies by market cap this week. At the time of writing, MANA/USD is trading at around $5.21.
Tokens.com Purchases Virtual Land Worth Almost $2.5 Million
The latest spike in MANA's price came after the announcement of a Canada-based investment firm focused on DeFi purchasing almost $2.5 million worth of virtual land in the decentralized ecosystem. Tokens.com, the firm that made these purchases of 116 parcels of virtual land, claims its move to be the first transaction of its kind so far.
The purchase was made from the virtual real estate firm Metaverse Group, a virtual land development service. Based in Decentraland's Fashion Street precinct, Tokens.com's purchased lots can support fashion brands looking to enter the metaverse and increase their footprint in the VR world.
According to head of content at Decentraland Foundation, Sam Hamilton, "Fashion is the next massive area of growth in the Metaverse. So it's timely, and very exciting, that Metaverse Group has made such a decisive commitment with this land purchase in the heart of Decentraland's fashion precinct. "
Decentraland's Outlook Bullish as Metaverse Adoption Set to Rise
The demand for the metaverse is on the rise, with Decentraland stealing the spotlight last week following news reports of Barbados establishing the first ever virtual embassy in the world within its ecosystem. The island nation's virtual embassy will officially be launched sometime in January 2022 and its government is looking to enter similar agreements with other metaverse platforms and expand its digital footprint .
Decentraland has been making remarkable gains in recent weeks ever since Facebook announced its rebranding to Meta and committed to developing the metaverse. However, the concept of the metaverse may go on from being the latest buzzword to something bigger as more users and businesses look to collaborate and engage in the world of virtual reality. Decentraland offers a platform for users to purchase and upgrade virtual properties, create user generated content that can be monetized, and even offer virtual lands to explore and social games to participate in with other users.
MANA/USD Technical Analysis
On the H4 chart of MANA/USD, moving averages along with the MACD suggest a strong bullish bias. Although, the momentum indicator signals some selling interest as well.
Decentraland's price is holding comfortably above the pivot point at $3.58 and has broken through the first resistance level at $4.43 as well. It looks like buyers are gearing up for a test of the second resistance at $5.21, so let's keep a close watch on price action around this level for now.
Cryptocurrencies were showing strong bullish pressure in the first two months of 2023, but the bullish momentum has faded
2 weeks ago