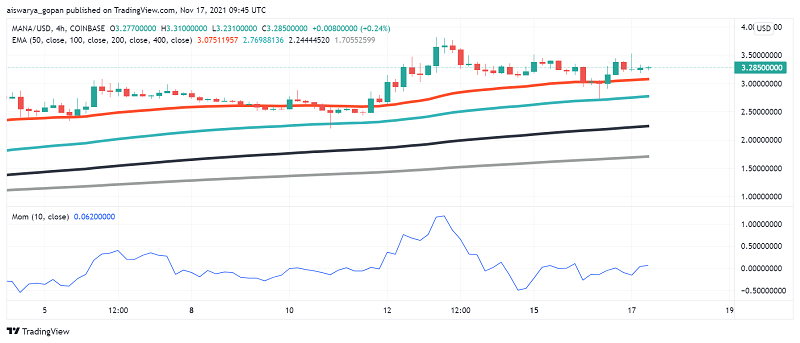 Why is Decentraland (MANA) Surging Today?
Leading Ethereum-based dApp Decentraland (MANA) is on quite the surge even as most of the crypto market experiences bearish moves, ever since Barbados announced the building of the world's first VR-based embassy on the Metaverse. At the time of writing, MANA/USD is trading around $3.28, up by nearly 10% in the past 24 hours.
The Caribbean island nation will pioneer the extension of its diplomatic outreach into the Metaverse, within the Decentraland ecosystem. It is scheduled to launch in January 2022 after the plan was approved by the nation's executive back in August.
As a next step, the Barbados government will then coordinate with several projects to identify and purchase land, create virtual embassies and consulates, provide services such as e-Visas. In addition, the move will see the development of a "teleporter", letting users transport their avatars between different virtual worlds.
Decentraland is one of the leading cryptocurrencies working to build a Metaverse – a concept recently popularized by social networking giant Facebook upon its rebranding. Its native token MANA has registered sharp gains in recent weeks ever since Facebook changed its name to Meta and confirmed that it was working to build a version of the Metaverse.
Growth of Metaverse to Keep Outlook For Decentraland Bullish
But the Metaverse is not just a concept hyped up by Facebook's Mark Zuckerberg – it's been in the works long before the leading social network stepped into this space. Decentraland enjoys the support of institutional investors since early this year when leading digital asset management firm Grayscale announced its Decentraland Trust in March, giving an opportunity for passive investments in MANA as security. If you look at the timeline, this was well before GameFi and Axie Infinity also exploded onto the scene.
According to Brandessence Market Research, the Metaverse market size could explode from $44.69 billion in 2020 to nearly $600 billion by 2027, posting a CAGR of 44.8%. The push to Web 3.0, an increased demand for converging physical and virtual worlds through the internet and popularity of VR can support the continued rise of cryptocurrencies like Decentraland in the coming years.
MANA/USD Technical Analysis
On the H4 chart of MANA/USD, moving averages as well as the momentum indicator are exhibiting a strong bullish bias. However, the MACD reveals the presence of buyers as well.
Decentraland's price is sitting well above the pivot point at $3.07 and there is room for further upside comfortably. The immediate resistance at $3.95 is quite the distance, which means it could be a smooth climb higher at least until then, as long as buyers remain in the game.
Cryptocurrencies were showing strong bullish pressure in the first two months of 2023, but the bullish momentum has faded
2 weeks ago