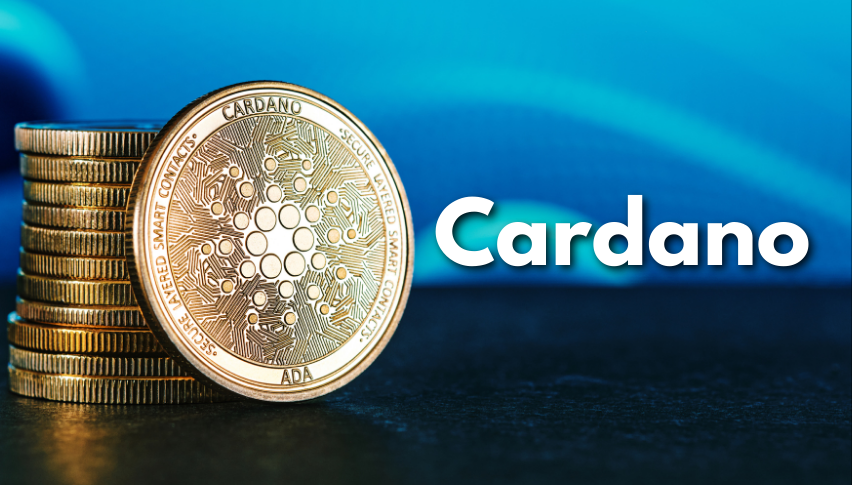 Cardano (ADA) Price Analysis: Where is it Heading to Next, After Rising 40% in 8 Days?
Cardano (ADA) bounced off recent lows of $1.069 on January 10, 2022, to reach a high of $1.543 today – this was an explosive rally of more than 40% in just 8 days. 
ADA's Weekly TimeFrame Shows Weakness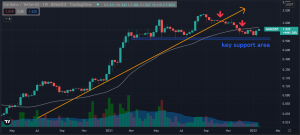 Looking at the bigger perspective, the weekly timeframe of Cardano (ADA) showed two key bearish price breakdowns. 
First came the breakdown of its mid-term uptrend line in September 2021. This uptrend line extended from the middle of the year until ADA reached new all-time highs of $3.10 in August 2021. This breakdown forced ADA to pull back towards the next support, which is the dynamic 50-D moving average line. 
Unfortunately, this key support line also broke down, as the price headed lower and lower. The overall negative sentiment in the cryptocurrency markets did not help either, as most cryptocurrencies broke similar support levels and dove deeper into negative territory. ADA was not spared, as it almost breached the major psychological support level – $1.00. 
ADA's Daily Timeframe: Strong Relief Rally from $1.00 Support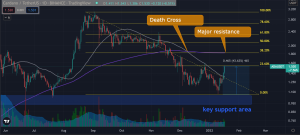 Cardano's daily chart paints a rather optimistic picture, as it shows a short-term relief rally. It has rallied +40% in about a week, after successfully bouncing off the major key support of $1.00. 
After plotting a Fibonacci Retracement, we can see that ADA has now reached the 23.60% Fib. resistance level. Expect a bit of profit-taking in this area, as bottom-feeders may take some chips off the table.
However, if ADA continues to rise above this level, this could mean more demand for the cryptocurrency and it may mean more impetus to head higher. If this happens, the next major resistance level is the 38.20% Fib., which, coincidentally, is the long-term 200-day moving average (purple line) of Cardano as well. This could be another +18% from its price at the time of writing. It is recommended that you take more profits when ADA reaches this level, as this is a major resistance area for this cryptocurrency. But this does not mean it couldn't overshoot to $2.00; however, in my opinion, this is the most optimistic situation in the short term. Most traders and investors would see this area as a major target to take profits. 
Major Support Level: $1.00
Resistance 1: $1.50-1.60 (23.6% Fib. retracement level)
Resistance 2: $1.80 (38.2% Fib. and 200-day moving average) 
Resistance 3: $2.00 (Major psychological resistance)