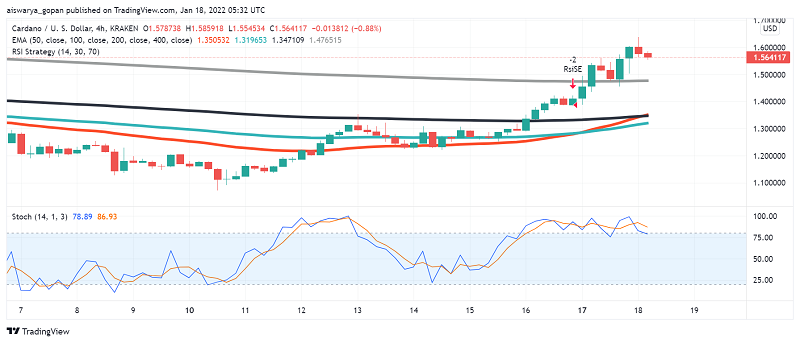 Cardano (ADA) Turns Bullish: Time to Buy?
If recent price action is an indicator, it looks like Cardano (ADA) is turning attractive among investors once again, rebounding sharply and continuing its ascent into Tuesday. At the time of writing, ADA/USD is trading at around $1.56, up by over 36% over the past week.
Cardano Attracts Buyers as DEX SundaeSwap Gets Ready For Mainnet Launch
The fifth largest cryptocurrency by market cap, Cardano has been enjoying considerable buying attention ever since its first ever DEX SundaeSwap announced its upcoming mainnet launch scheduled for later this week. SundaeSwap will support token swaps and yield farming, although its initial launch will be a beta rollout with limited features and trade matching times which could range between hours and days in the initial days of its operation.
The developers of the DEX have clarified that the DEX's smart contracts have been fully audited and that the platform will meet all industry standards for security. However, it cannot implement completely decentralized governance immediately upon its launch due to existing transaction size limits on the Cardano blockchain, keeping the project's launch in a fully-functional yet beta phase.
ADA Rising in Popularity Among Investors
Cardano remains the third most active blockchain based on transaction volumes. With a 24-hour transaction volume of $5.31 billion, it sits not too far from Ethereum's $5.59 billion figure, a key indicator of rising interest in the ADA crypto among buyers once again.
Investor interest in this cryptocurrency can get an even bigger boost from a recent Twitter poll posted by Ethereum's co-founder Vitalik Buterin. Cardano came in on the top as the most preferred alternative to Ethereum in the poll, beating Bitcoin and Solana and garnering 42% of more than 600k votes from users.
ADA/USD Technical Analysis
Popular crypto analyst Michaël van de Poppe expects Cardano to be getting ready to shake off the long-standing bearish mood soon. According to his analysis, momentum and actual hype around the crypto seems to be waking up again, which could see ADA rally to $2 and possibly even $2.33 in the coming sessions.
Taking a look at the H4 price chart of ADA/USD, we find a strong bullish bias among moving averages and the MACD. Although, the momentum, RSI and Stochastic are flashing sell signals as well.
Cardano's price is well above the pivot point at $1.30 and buyers have smashed through the first resistance at $1.53. Our next key level to monitor is the second resistance level coming up at $1.65.