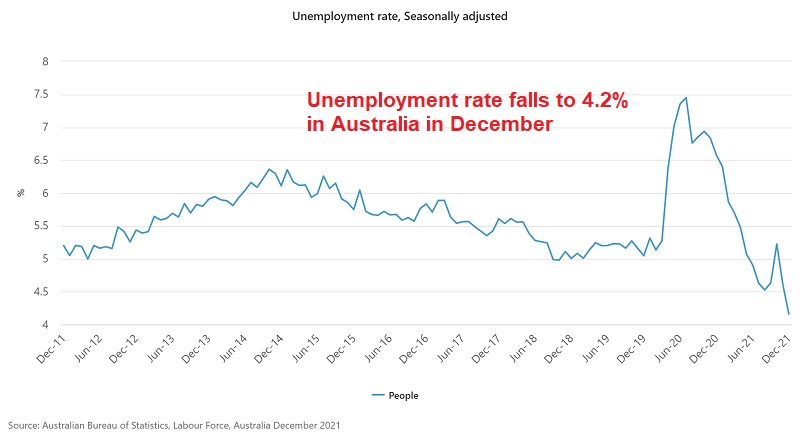 Buying AUD/USD After the Positive Employment Report, Despite Coronavirus Restrictions
So far today, the Aussie is leading the gains, with the stronger jobs report released earlier bolstering the expectations of an RBA rate hike, and that is helping to keep the currency firmer. Adding to that is, of course, the better risk mood on the day, although we saw equities trim gains in the opening half-hour of European trading.
Australia has been hit hard by coronavirus restrictions, but it seems that the economy is doing well in certain sectors, and it will surge once the restrictions are eased. AUD/USD has been showing bullish signals since early December, pushing above moving averages, even though the USD has been bullish, and this report should keep it bullish for the coming sessions, so we decided to buy AUD/USD earlier.
Australian Unemployment Report  – Key Statistics
Seasonally adjusted estimates for December 2021:
Unemployment rate decreased to 4.2%.
Participation rate remained at 66.1%.
Employment increased to 13,242,000.
Employment to population ratio increased to 63.3%.
Underemployment rate decreased to 6.6%.
Monthly hours worked increased by 18 million hours.
In seasonally adjusted terms, in December 2021:
The unemployment rate decreased by 0.5 pts to 4.2%
The unemployment rate was 1.1 pts below March 2020
Unemployed people decreased by 62,200 to 574,400
Unemployed people was 148,800 lower than March 2020
The youth unemployment rate decreased by 1.5 pts to 9.4%
The youth unemployment rate was 2.2 pts lower than March 2021
Employment
In seasonally adjusted terms, in December 2021:
Employment increased by 64,800 people (0.5%) to 13,242,000 people
Employment was 246,600 people (1.9%) higher than March 2020