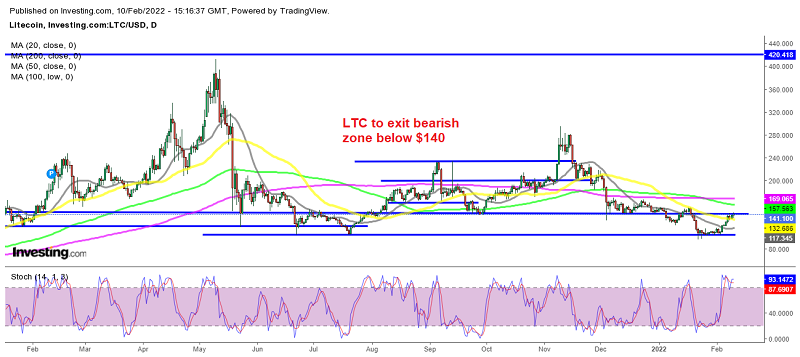 Litecoin (LTC), Avalanche Crypto (AVAX) Gain 50%, Show Increasing Bullish Pressure
Litecoin and Avalanche cryptos suffered some heavy losses during the bearish period of the last three months. They lost around 2/3rds of the value during that decline, but are showing bullish pressure now, as they have reversed higher together with the crypto market. So, it seems like these two digital coins are resuming the larger bullish trend.
Litecoin Daily Chart Analysis – LTC Facing Support at $140
Litecoin remained on a constant bearish trend for three months, since it failed to keep the gains it made in early November when it got pretty close to $300. The 50 daily SMA (yellow) turned into resistance and the price pierced below the big round support zone at $100. But, that support zone held and there was no close below it.
LTC/USD eventually started reversing up after sticking above the support for two weeks and not being able to break it. If something can't go down it will go up eventually and that's what Litecoin is doing. Buyers pushed the price above the 50 SMA but now it is facing the previous support zone around $140, which might turn into resistance.
The MimbleWimble upgrade which increases privacy for Litecoin might be adding to the bullish sentiment in the crypto market, so LTC/USD should remain bullish if the sentiment remains positive in the market. Although, there are many resistance areas above this one, the first decent one comes at $160-70.
Avalanche Daily Chart Analysis – AVAX Bounces Off the 200 SMA
Avalanche pushes above the 100 daily SMA
Avalanche has seen a constant increase in the DeFi TVL even in recent weeks, as the total market TVL declined. This might have helped in this reversal, together with the scheduled Avalanche Summit during March 22-27 in Barcelona, Spain, which could help in bringing more projects to the Avalanche network.
AVAX/USD was holding well until late December, but the deteriorating sentiment in the market weighed on Avalanche, which fell from $146 to $54. The price pierced below the 200 SMA (purple) and the support level at $55, but didn't close below them. Eventually, the price reversed and now Avalanche is resuming the larger bullish trend again, especially after pushing above the 100 daily SMA.