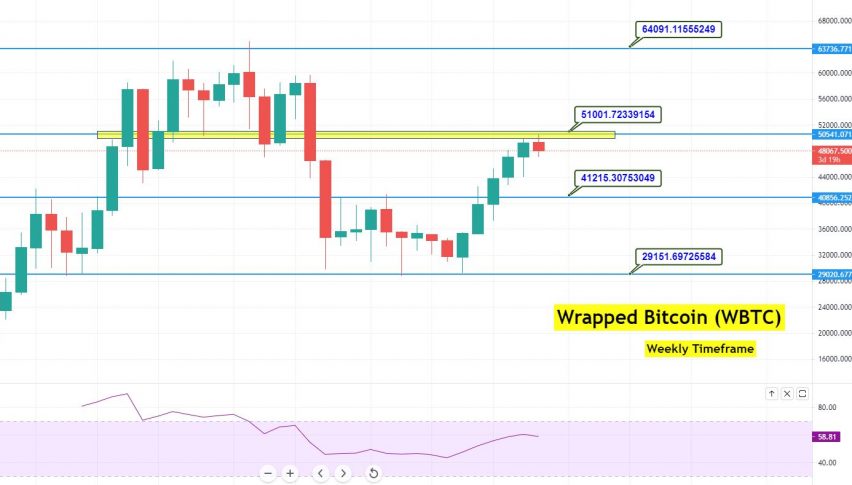 Wrapped Bitcoin (WBTC) Is Having a Really Good Day So Far
Wrapped Bitcoin (WBTC) is up 4.38% today, bringing the price to $40,908 (WBTC/USD). It's performing better than the majority of the market at the moment, as it recovered from Wednesday's price drop and then some.
Where Has Wrapped Bitcoin Been Going?
Wrapped Bitcoin fell more than 9% on Wednesday, but it recovered almost right away. When the price was at $38,746, Wrapped Bitcoin's rate fell down to $35,160 the same day. Before the end of the day on Thursday, Wrapped Bitcoin had climbed back up to $38,755. After holding steady for a couple of days, Bitcoin started to spike again this morning, starting off what could be a bullish run.
Not many other cryptocurrencies are pulling those kind of numbers, with many of the major cryptos that rank close to Bitcoin (BTC) pulling in less than 4% gains today. We have to go as far down the list as Cardano (ADA) at #7 in the rankings to see gains on par or better than Bitcoin's and Wrapped Bitcoin's. Cardano managed a 5.62% gain today, with Ethereum (ETH) only gaining 1.64% today.
Bitcoin is seeing a bigger gain than Wrapped Bitcoin, with a 5.19% gain for today, and its rate is at $41,097. Wrapped Bitcoin tends to trail Bitcoin by a little bit, staying close to the crypto leader.
Wrapped Bitcoin is a stablecoin, with its rate tied at around a one-to-one ratio to Bitcoin, but we always expect a little bit of trailing, like we are seeing today.
Will Wrapped Bitcoin Remain Bullish?
The economy and financial markets are very unstable. The big news right now is Russia's invasion of Ukraine, which is affecting markets all over the world. What happens there can have a big impact on the cryptocurrency market, driving Bitcoin and Wrapped Bitcoin in unexpected directions.
This makes for a very unstable and risky crypto market right now, so it's hard to say with much certainty where Wrapped Bitcoin is going to go. However, this is a coin that has proven its longevity instability, when compared to other cryptocurrencies. Even if it does turn around and go bearish, we expect it to recover better than most other cryptocurrencies. You can watch Bitcoin closely to see where Wrapped Bitcoin may be headed in the near future, but keep in mind that the difference in trading volume between these two cryptos can keep Wrapped Bitcoin from completely catching up with Bitcoin.