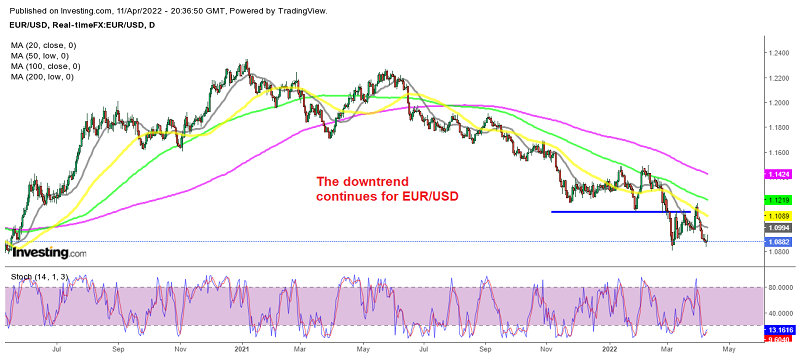 EUR/USD to Head for 1.05, As Eurozone Economic Sentiment Deteriorates
The economy of the Eurozone was picking up again in the first two months of this year and optimism was prevailing on the investor sentiment. But, the conflict in Ukraine hurt the sentiment and sent inflation surging higher, which had already been on the increase in the last two years and was already pretty high. Last month the ZEW economic sentiment dived deep into negative territory as it fell to -39 points, and this month it is expected to dive even deeper.
EUR/USD has been hit by the deteriorating sentiment, while the divergence in the monetary policy between the FED and the EU are also weighing on this pair, as the USD moves higher.
Eurozone April ZEW Economic Sentiment
April ZEW survey current conditions -30.8 points vs -35.0 expected
March ZEW current conditions were -21.4 points
Economic sentiment -41.0 points vs -48.0 expected
Prior sentiment was -39.3 points
The headline reading is the lowest since May last year with ZEW noting that the current economic situation reflects pessimism and experts assume that conditions will continue to deteriorate. But there was a decline in inflation expectations, giving some cause for hope. That said, the prospect of stagflation remains over the next six months.