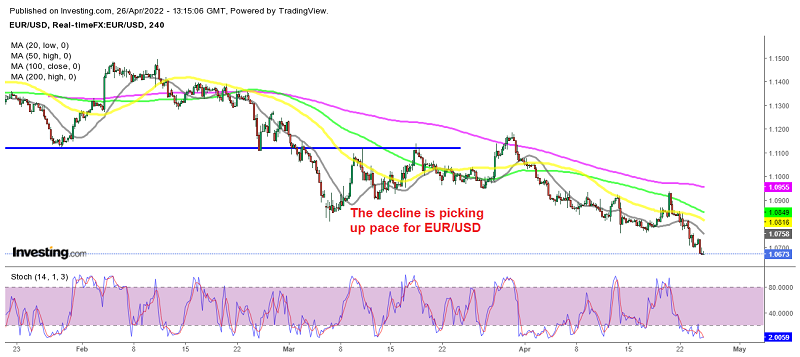 EUR/USD Targeting 1.05 After Breaking Below 1.07
The Euro continues its decline, as EUR/USD shows, although this decline comes from both sides, as the USD keeps pushing up while the Euro keeps sliding lower. The divergence in central banks has been pushing this pair lower, with the FED already starting to hike interest rates and expectations are that it delivers a 50bps rate hike in the next meeting, followed by similar hikes in the next several meetings. So, the path of the monetary policy by the FED is pretty steep.
The European central bank, on the other hand, isn't showing much willingness to act. They have finally decided that they should start hiking rates, but they're thinking about July, but the FED will have hiked by 125 bps by then. So, the pressure remains bearish for the USD and today's durable goods orders turned positive again, which sent the USD a bit higher too.
US Durable Goods Orders for March 2022
March durable goods orders +0.8% vs +1.0% expected
February durable goods orders was -2.2%
Durables ex-transportation +1.1% versus +0.6% expected
Prior ex-transportation +0.6%
Durable ex defense +1.2% versus -2.7% prior
Nondefense capital ex air +1.0% versus +0.5% expected.
Prior month was -0.2%
Shipments +1.2% vs 0.0% prior (up in 10 of last 11 months)
Unfilled orders +0.4% vs +0.4% prior (up in 14 consecutive months)
Inventories +0.7% vs +0.4% prior (up in 14 consecutive months as well)
Orders have risen in five of the past six months. The latest increase was led by a 2.6% rise in orders for computers and electronic equipment.