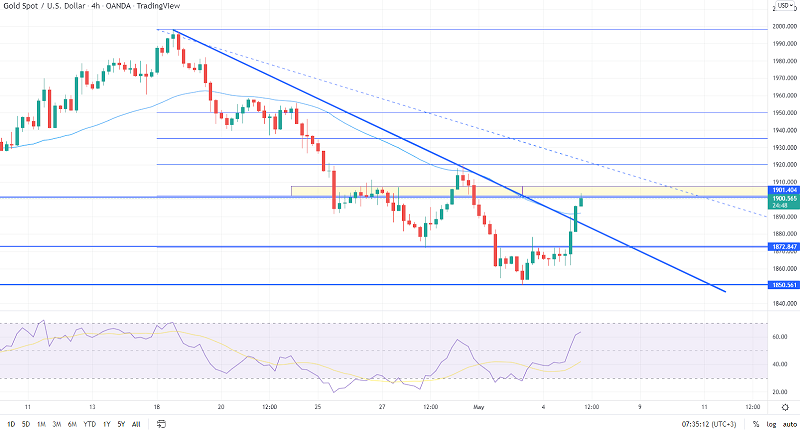 Gold Rockets to $1900 Amid Buy the Rumor, Sell the Fact
The gold price is firmly advancing towards the psychological resistance of $1,900 after a strong upside move from around $1,866.00. The move comes after the Federal Reserve (Fed) announced its interest rate decision and underpinned the precious metal against the greenback.
Market participants have seen the 'Buy on Rumor and Sell on Fact" indicator activity, which has dragged the US dollar index (DXY) significantly below the round level support of 103.00.
Key Policy Points From the Fed
Fed Chair Jerome Powell took an aggressively hawkish stance on policy rates, raising them by 50 basis points (bps) and warning investors of more half-percentage-point hikes in the coming monetary policy meetings. The Fed stated that multi-decade inflation requires all-around restrictions to be contained.
Reducing the balance sheet will begin, which will strengthen the other quantitative tools available to combat the inflation mess. Aside from that, the Fed stated that the US economy is strong enough to withstand the heat of a tightening policy stance.
US Treasury yields fell from three-year highs as the Fed became less hawkish, though it maintained its commitment to delivering a 50-bps lift-off and beginning the balance-sheet reduction process. Wall Street indices rose more than 2% in response to the Fed's statement that it was not "actively considering" raising interest rates by 75 basis points, collaborating with the long-overdue correction in the dollar.
The XAU/USD extended its previous rebound and gained near $28 on the Fed's less hawkish tone before slightly reversing to close the big Fed Day at $1,881. The weakening of the US dollar was also justified by weakening in the US ADP and ISM Services PMI.
Gold Technical Outlook
The GOLD price rallied strongly yesterday to attack the 1890 level, beginning today with additional optimism to breach and move away from it. This has caused the price to rise on an intraday basis and attempt to achieve gains that begin by testing the 1925.35 level, noting that breaching this level will extend the bullish wave to reach 1960.
As a result, we expect to see more bullish bias in the coming sessions unless the price breaks and holds below 1890.00. Today's trading range is expected to be between 1885 support and 1925.35 resistance.
Today's predicted trend: Bullish