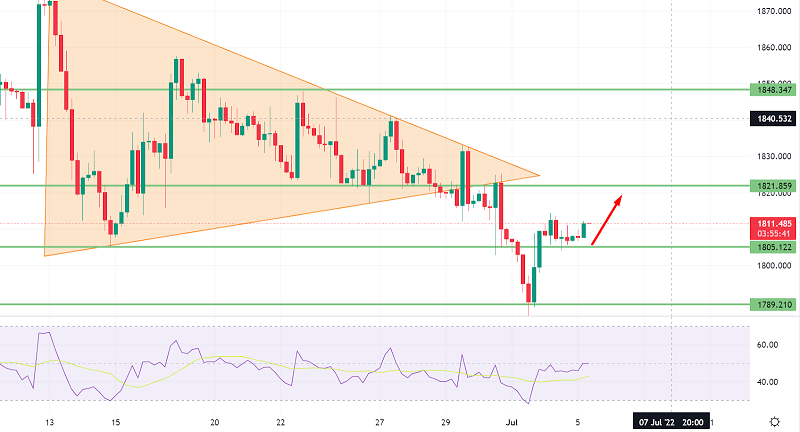 Gold Price Gains Support Near $1,805 – Quick Daily Outlook
The gold price tests the uptrend break of the consolidation formed in the early Tokyo session in a tight range of $1,806.60-1,809.89. On a broader level, the precious metal has moved sideways following a stronger rebound from Friday's low of $1,784.55.
The DXY comfortably trades above the psychological resistance level of 105.00. The DXY is expected to trade sideways until the European session, as higher volatility at the open causes a contraction. Besides the Fed minutes, the US Nonfarm Payrolls (NFP) will be crucial this week. According to market expectations, the US economy grew 270k jobs in June, down from the previous release of 390k.
GOLD prices will likely remain volatile as the Federal Open Market Committee (FOMC) minutes are released on Wednesday. The detailed point of view from Federal Reserve (Fed) policymakers on the US economy's economic indicators, particularly the inflation rate and growth projections, will assist market participants in adjusting their positions on associated assets. Furthermore, investors can better assess the future path of the yellow metal and the US dollar index (DXY).
Gold Technical Analysis
The gold price has been hovering around 1810.00 since yesterday, indicating no change in the expected bearish trend scenario on an intraday and short-term basis, which is being supported by the EMA50, as we wait to achieve our negative targets, which begin at 1780.25 and extend to 1750.00 after trying to break the previous level.
It is important to note that a break of 1818.00 will end the negative scenario and push the price to the 1850.00 area before any new negative target. Today's trading range is expected between 1780.00 support and 1825.00 resistance.
Today's expected trend is bearish.