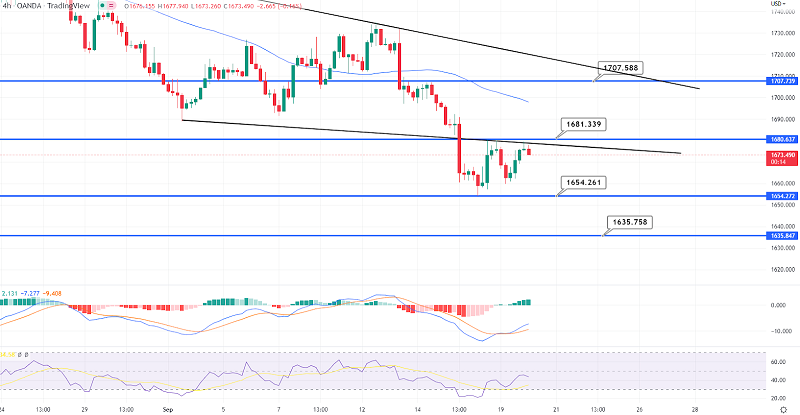 Gold Steady Under $1,680 – Quick Technical Outlook
Gold has maintained its offered tone throughout the early North American session, and it is now trading at about $1,665, slightly above the daily low. A stronger US currency is hurting the dollar-denominated commodity, which has fallen below the critical 2021 lows in the $1,670s. This level has offered consistent support several times, and its breach last week was a bearish indicator for XAU/USD.
Expectations that the Federal Reserve will maintain its aggressive rate-hike policy to contain uncomfortably high inflation continue to support the greenback. For example, a drop in near-term inflation predictions for consumer prices in the United States to a one-year low in September caused investors to reduce their bets on a complete 100 basis point Fed rate rise.
The US Federal Reserve, on the other hand, is projected to deliver at least a 75 basis point increase at the end of a two-day monetary policy meeting on Wednesday, which will continue to support the greenback. As a result, rising US Treasury bond rates remain beneficial. This, combined with the potential for a quicker rate rise by other major central banks, pushes flows away from the non-yielding yellow metal.
However, as illustrated by a new leg down in the equity markets, the current risk-off atmosphere supports conventional safe-haven assets. This appears to be the only factor supporting gold and limiting its decline, at least for the time being.
Investors appear hesitant to make bold wagers and prefer to remain on the sidelines before a flurry of central bank conferences this week. The Fed is expected to decide on Wednesday, which will significantly impact the near-term USD price dynamics. On Thursday, the Bank of Japan (BoJ), the Swiss National Bank (SNB), and the Bank of England (BoE) will follow. This, in turn, should help investors predict the next leg of gold's directional advance.
Gold Technical Outlook
Yesterday, the gold price traded bullish to test the first significant resistance, $1,680. This particular level has a strong potential to push gold prices further lower. Below $1,680, gold may continue to trade bearishly to resume the bearish wave with its next target at $1,644, supported by the stochastic RSI indicator.
On the other hand, we should note that breaking through the $1,680 – $1,684 levels will complete the formation of a positive pattern, causing the price to begin a bullish correction that will initially target the $1,712 range.
Today's trading range is likely to be between $1,665 support and $1,690 resistance.
Today's projected trend: Bearish