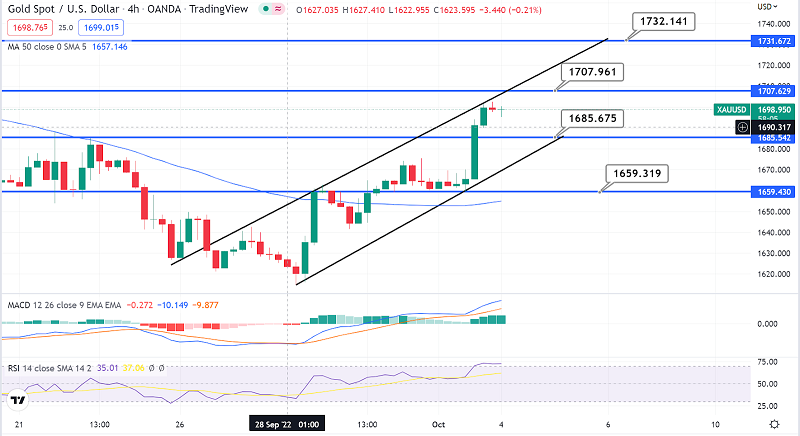 Gold on a Rise Amid Weaker Manufacturing Activity – XAU/USD to Struggle Under $1700
Gold, the precious metal, is on a bullish run, having reached a high of $1,703 level on Monday. However, Tuesday morning is driving a slight bearish correction. Therefore, GOLD prices fell on Tuesday after reaching a nearly three-week high earlier in the day, as a stronger dollar dampened the attraction of greenback-priced metal and offset support from lower US Treasury yields.
Manufacturing activity in the United States grew at its weakest pace in over two and a half years in September, as new orders fell amid aggressive interest rate rises by the Federal Reserve to temper demand and manage inflation.
President of the Federal Reserve Bank of New York, John Williams, stated on Monday that while there have been some indicators of falling inflation, underlying price pressures remain too strong, implying that the US central bank must press ahead to bring inflation under control. Although gold is seen as an inflation hedge, rising interest rates raise the opportunity cost of owning metal that pays no interest.
The government of India hiked the total import duty on platinum from 10.75% to 15.4% in a notification issued on Monday, aiming to achieve parity in the import duty framework between gold and platinum.
Gold (XAU/USD) Technical Outlook
Since this morning, the gold price has been trading sideways, and as long as the price is above 1660.00, our bullish outlook will remain valid, backed by the bullish signal provided by MACD and RSI.
Gold is waiting to resume the bullish bias to visit 1700.40 as the next main station, noting that the EMA 50 continues to support the proposed bullish wave.
Today's trading range is likely to be between 1685support and 1,720 resistance.
Today's projected trend: bullish