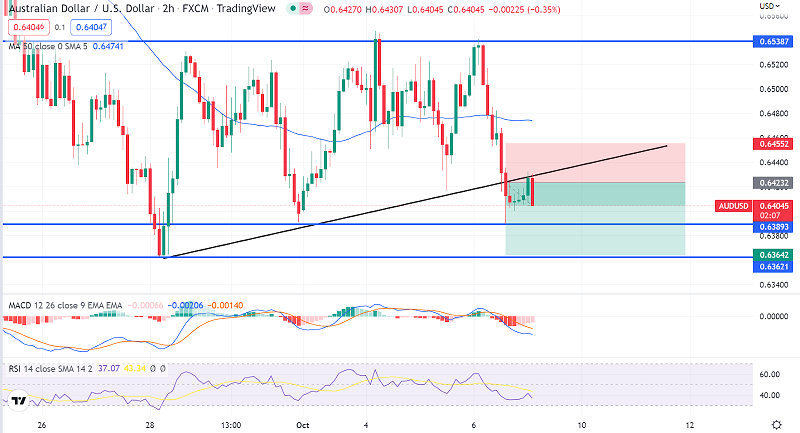 AUD/USD Breaks Below $0.6440 Ahead of US NFP – Quick Update on Trading Signal
On Friday, the AUD/USD pair detected downward pressure near 0.6432 and is predicted to complete its decline. The AUD/USD is anticipated to revert to its round-level support of 0.6400 as the likelihood of the Federal Reserve (Fed) raising interest rates by 75 basis points (bps) falls drastically.
According to the CME Fed watch tool, the likelihood of releasing a fourth consecutive 75-bps rate hike has increased to 75.9%, while the odds of a half-percentage-point hike have decreased to 24.1%. It is worth mentioning that forecasts for US Nonfarm Payrolls (NFP) statistics are gloomy. NFP Payroll figures are projected at 250k in September, compared to 315k in August.
The Federal Reserve aims to deliver price stability to the economy. To do so, the central bank is willing to compromise on optimistic employment status for a long time. As a result, market investors anticipate that the Fed will maintain its current interest rate hikes. Nonetheless, the release of the US NFP report will shed further light on the Fed's decision-making process.
Fed policymakers are advocating for higher interest rates to address the inflation crisis. Chicago Fed Bank President Charles L. Evans predicts the central bank will reach the 4.5-4.75% target rate by spring 2023.
Also, during the last two monetary policy sessions of 2022, the central bank will raise interest rates by 125 basis points (bps). According to the semi-annual financial stability assessment, the Reserve Bank of Australia (RBA) has warned of heightened financial stability concerns in recent months. The central bank thinks that tightening policy, geopolitical uncertainty, a stronger US dollar, and skyrocketing oil prices are all putting pressure on Australian markets.
AUD/USD Trading Signal
On the technical front, the AUD/USD has violated the 0.6440 level, and the closing of candles under this level is likely to drive a bearish trend.
A bearish breakout of an upward trendline, and the RSI in the sell zone, also indicate a strong bearish bias. Therefore, we have opened a sell position with a target of $0.6389 today. Good luck!
The US consumer is softening as intertest rates go up, which is a factor for the USD retreat and for the FED to stop hikes
13 hours ago