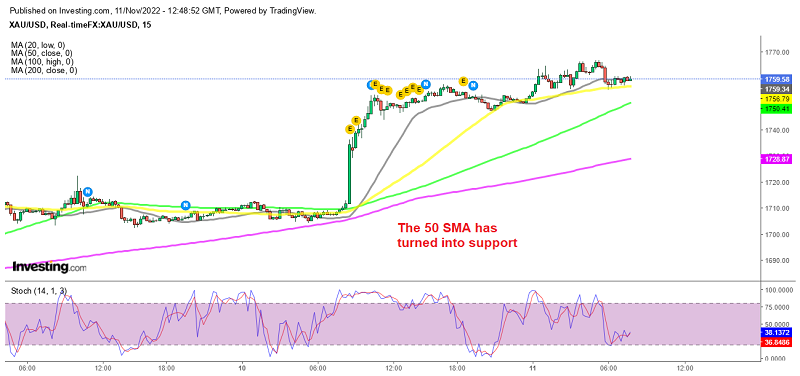 Buying USD/JPY as USD Recovers on Deteriorating Sentiment
The USD went through a retreating period in the last several weeks, as the sentiment improved and the only safe haven left turned bearish. The two main reasons for the improving sentiment were the FED giving signals that it wants to slow down with rate hikes and China giving signals of reopening from the 2-year coronavirus lockdowns and other restrictions, which would ease the supply lines and lower prices everywhere.
But, the sentiment is turning negative again and the USD is starting to recover. China is chickening out again and announced new covid measures over the weekend, while Beijing official said earlier today that the city faces the most complex and severe Covid control situation, which is adding to the negative momentum in the risk sentiment.
Stock markets in the US are down as a result, while USD/JPY is turning bullish. Earlier today we saw a slight retrace lower, but the 200 SMA (purple) held as support on the H1 chart as shown above and we decided to open a buy forex signal here after the doji candlestick above this moving average.
The week is just starting, although it will be a short one because the US will be off on Thursday for Thanksgiving. The USD is continuing to put up a fight, after having shown decent strength in the second part of last week. Now, the technical charts are starting to show a better picture for the USD but the softness from the post-CPI selloff is still very much lingering and there's still caution. Our USD/JPY signal here closed in profit a while ago as the price bounced off the 200 SMA.