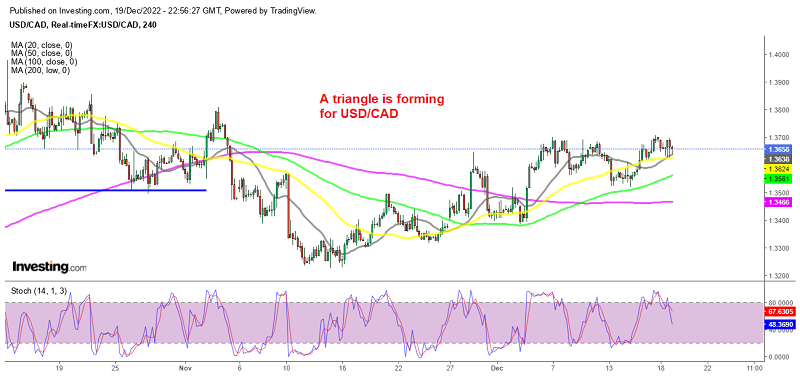 Triangle Breakout in USD/CAD After Canadian Retail Sales?
USD/CAD has been bullish since the middle of November, at a time when the USD turned quite bearish, indicating increased weakness in the Canadian Dollar as the USD kept gaining against it. The highs have been getting higher and moving averages have been acting as support during retreats, particularly the 100 SMA (green) on the H4 chart.
But, a resistance zone has formed around 1.37 which has been holding strong. Buyers have been banging the price against it since the first week of this month, but without much success. As a result, a triangle is forming on this pair, which should be broken soon.
USD/CAD remains under pressure around this resistance zone as buyers try to defend the bullish trend which has been going on for more than a month. The demand for commodities such as metals and energy has weakened as the global economy heads for a recession, which means that the CAD is under some pressure as a commodity currency. So USD/CAD sellers are weak to create downward price action despite the FED speaking about becoming less aggressive.
Although, the retail sales report for October which shows consumer spending, came up positive, narrowly missing expectations. The US Philly FED non-manufacturing survey came at -17.1 points in December, down from -13.6 in November.
Canadian October retail sales
October retail sales +1.4% vs +1.5% expected
September retail sales came at -0.5%
Core sales ex. autos +% vs +% expected
Prior ex. core sales were -0.7%
Ex autos and gas +0.9%
November advance flash estimate -0.5% m/m
Oct sales up in 6 of 11 subsectors representing 84.4% of trade
The October rise was the best in five months but the boost will be short-lived with early November data showing a contraction. I'm expecting a step-down in Canadian data early in 2023 as higher mortgage rates begin to bite hard.