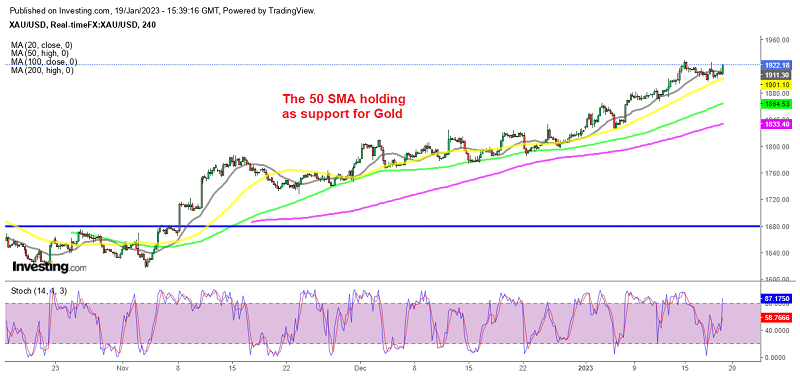 Risk Sentiment Improves As Cryptos And Gold Reverse Higher
Yesterday risk sentiment improved after the decline in December retail sales in the US, which came below expectations. That meant that the FED would slow further with rate hikes which is positive news for risk, while the USD turned lower on the other hand. But, the decline was attributed to the extreme cold weather around Boxing Day which has impacted sales negatively.
So, traders reevaluated their positions and started reversing trades, turning bullish on the USD while risk sentiment turned bearish. Today risk sentiment remained negative during the Asian and European sessions, with stock markets opening with a bearish gap lower, but it seems like the sentiment is improving as Bitcoin heads for $21,000 again.
Gold peaked just below $1,930 at the beginning of this week, but has been retreating since then, although today buyers started to come back again and it seems like the uptrend is resuming. The 50 SMA is still holding as support and we saw a bounce off that moving average at the start of the US session.
We already had two long term buy Gold signals today, both of which closed in profit and we're looking for another trade here. The US unemployment claims came out positive, which is helping risk sentiment further.
US Unemployment Claims
Initial US jobless claims 190K versus 214K estimated
Prior report 205K
4-week moving average of initial jobless claims 206.00K versus 212.50K last month
Continuing claims 1.647M versus 1.660M estimate
4-week moving average of continuing claims 1.673M versus 1.678M last week
The data today coincides with the BLS survey week four employment to be released in the first week next month. The claims data is the lowest level since April 28, 2022. Employment remains an issue for the Federal Reserve.
The continuing claims have been ticking up from the September low of 1.347M, but are down from the end of December high 1.710M: nevertheless, they are continuing to skim along low levels indicative of a strong labor market.