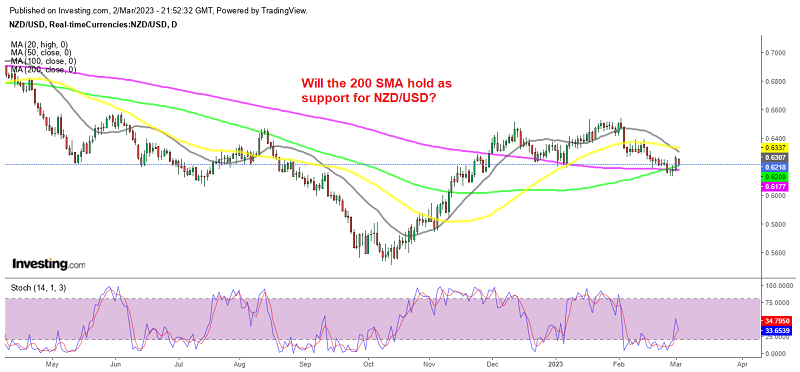 Decisive Moment for NZD/USD After Mild Hawkish Comments from RBNZ Gov
NZD/USD is at a decisive moment right now, after being bullish from October until a month ago and climbing more than 10 cents, while last month this pair turned bearish as the USD resumed the bullish momentum. The price fell around 4 cents lower, dipping below the 200 SMA (purple) on the daily chart.
But a couple of doji candlesticks formed there whichare bullish reversing signals after the retreat and on the following day we saw a decent bullish candlestick. But, that was due to a retreat in the USD rather than coming from the NZD. So, the 200 SMA held as support again despite being pierced.nzd/usd
Although yesterday NZD/USD turned bearish again as risk sentiment deteriorated and the USD moved higher. So, the price is returning to the 200 SMA again, which has been holding as support since early December. If this moving average is broken, then the trend will be officially bearish, otherwise, we might se a stronger bounce higher.
The Reserve Bank of New Zealand Governor Adrian Orr held a speech at the NZ Economics Forum at Waikato University last night. It was a general sort of speech but he touched on the monetary policy and inflation, although the comments were mostly balanced which  leave the NZD at the mercy ofthe USD. Below are Orr's comments:
RBNZ is considering various factors, including financial stability and avoiding unnecessary fluctuations, when making decisions about the official cash rate. They need to balance these concerns with the risk of causing a severe economic downturn, where spending and investment decreases and the exchange rate becomes higher due to foreign exchange dealers seeking a higher yield. This could harm the export sector.

The RBNZ plans to take a less aggressive approach to increasing the official cash rate in this current cycle to bring inflation back to its target range. They aim to achieve this without causing the economy to crash and resulting in permanent unemployment. It is important to find a reasonable balance between these concerns and to implement changes over a reasonable period of time.
The Reserve Bank of New Zealand raised interest rates yet again early today
1 week ago