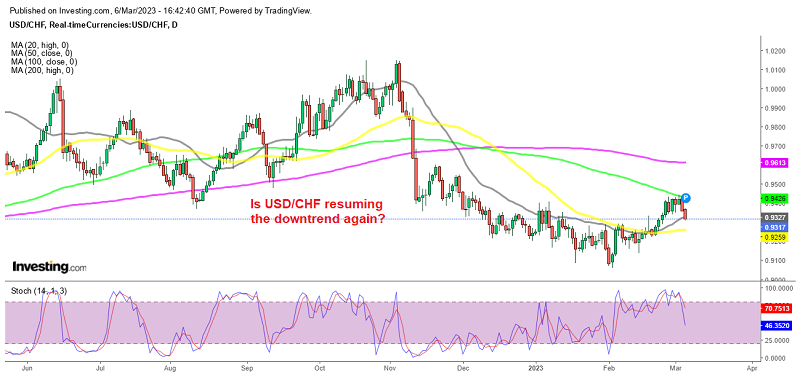 USD/CHF Reversing Lower at the 100 Daily SMA, As Swiss Inflation Keeps Increasing
USD/CHF has beenon a bearish trend since November, as theFED stoftened the rhetoric, on lower inflaiton and slowing economic indicators, but since early February we have seen the US dollar recover a bit against the CHF, as well as against other currencies around the world. Whether or not that sticks remains to be seen, but the economy has shown signs of a bounce this year, while inflaiton has lost the pace of slowdown.
The price surged from 0.9060 to 0.9440s last month which shows quite a bit of upward pressure on the US dollar in general, although it's likely going to be a situation where the direction will be decided based on where interest rates are going in the US.
During the downtrend, the 50 SMA (yellow) was acting as resistance on the daily chart, but that moving average was broken last month. Although, last week the price reached the 100 daily SMA (green) which stopped the climb and rejected this pair, sending it lower . Friday was bearish for the USD, as the daily candlestick shows, while today the USD is feeling a bit better, but the decline is larger in this pair, as the CHF is gaining some momentum on higher inflation numbers.
That being said, we will keep an eye on what the US dollar is doing overall, because it tends to move in the same direction against all major currencies. Last week the USD retreated on some softer economic data, but we miught see a reveral this week. Below is the inflation report from Switzerland:
Latest data released by the Federal Statistics Office – 6 March 2023
February CPI YoY +3.4% vs +3.1% expected
January CPI YoY was+3.3%
Core CPI YoY +2.4%
Prior core CPI YoY was +2.2%
Swiss inflation continues to run hot, with the core annual reading also seen higher compared to January. This will just reaffirm the ongoing policy stance by the SNB.