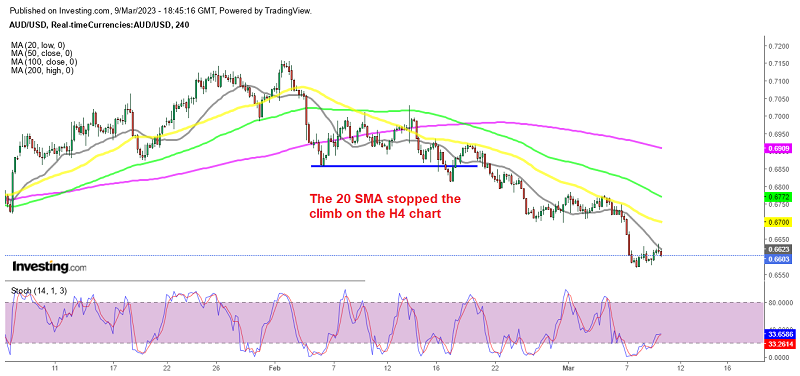 Risk Assets Showing Weakness Ahead of Today's Employment Numbers
Markets have been uncertain for quite some time now, as they try to price in the probability of the FED continuing with rate hikes for longer, which is negative for risk sentiment as a tighter policy hurts the economy. The FED has picked up the bullish rhetoric lately, which has been weighing on risk assets such as commodity dollars.
AUD/USD has been bearish since early February and moving averages are keeping it like that, pushing the highs lower. This week FED's Jerome Powell commented on higher rates but also showed uncertainty about a 50 bps hike this month and left the policy at the mercy of inflation and employment.
The initial jobless claims numbers released yesterday showed claims higher at 211K compared to the previous week's 195K. However, it's important to note that this is only for one week and today we have the NFP numbers which are more significant. The initial jobless claims data also did not cover the survey week, which showed the lowest number of claims in nine months.
Some believe that those who are selling the USD based on yesterday's jobless claims were overly optimistic and could potentially be proven wrong by today's NFP report. Others argue that today's data exposes a market that is too heavily invested in the idea of a 50 bps hike later this month.
Currently, the market pricing for March 22 is 66% for a 50 bps hike. However, this number is likely to change significantly after the release of the non-farm payrolls report later today. During yesterday's trading session, AUD/USD showed some signs of recovery after experiencing a significant decline earlier in the week.
However, the 20 SM A(gray) stopped the retrace on the H4 chart and after forming an upside-down candlestick, this pair is resuming the downtrend again. It seems that the market is still attempting to challenge the important 0.65 level, which not only represents a major psychological barrier but also a level where we have previously seen support in the past. Other risk assets such as NZD/USD and GBP/USD are also showing weakness ahead of today's employment report.