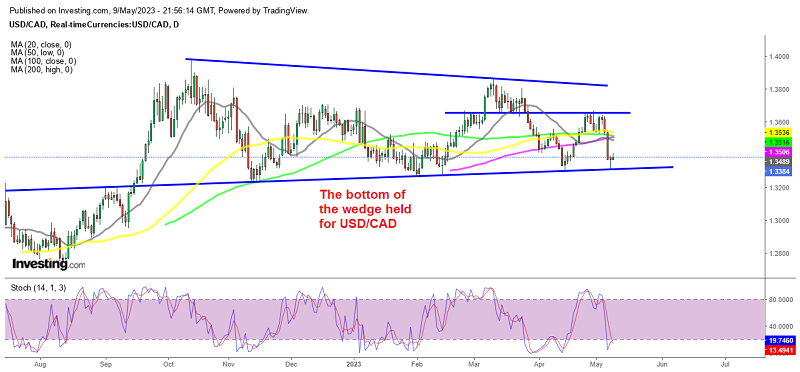 USD/CAD Continues to Bounce Within A Range
USD/CAD was bullish until October, when the price almost reached 1.40, but the USD started turning weaker on softer FED rhetoric and this pair retreated lower. The FED might have stopped rate hikes after the last 25 bps hike last week, which was one of the reasons for the strong bearish revrsal in this pai last week.
Both the United States and Canada received positive news regarding their labor markets, with great job numbers from both countries. The US Non-Farm Payrolls (NFP) report revealed the addition of +253K new jobs, exceeding the expected 181K (although there were negative revisions to previous reports). Wages in the US also saw a rise of 0.5% month-on-month, exceeding the projected 0.3%. On the other hand, Statistics Canada reported +41K new jobs in Canada, surpassing the anticipated 21.6K.
While the Canadian report was relatively stronger, the overall strong economic data helped alleviate concerns surrounding global economic growth. This led to a broad-based rally in risk assets as the weekend approached. The CAD benefited significantly from this optimism, alongside the price of Oil, which is Canada's most crucial export. Additionally, the relatively hawkish remarks made by Bank of Canada (BOC) Governor Macklem likely contributed to the boost in the Canadian dollar.
Although yesterday Oil prices retreated $2 lower as a result of profit-taking following the recent robust recovery from a 17-month low. But, Oil rebounded back up after the province of Alberta in Canada announced emergency measures due to wildfires, which led energy producers to halt at least 280,000 barrels of oil equivalent per day. Besides that, there were reports indicating that Russia had largely fulfilled its production quota cutbacks in April.
USD/CAD rebounded off the bottom of the wedge above 1.33, as shown on the daily chart above. The highs have been getting lower since October in this pair, while the lows have also been getting higher as well, which is forming a wedge on the daily timeframe. So, after the rebound off the lows, the chart indicates that we might see some bullish momentum until 1.3650 at least.
USD/CAD Live Chart