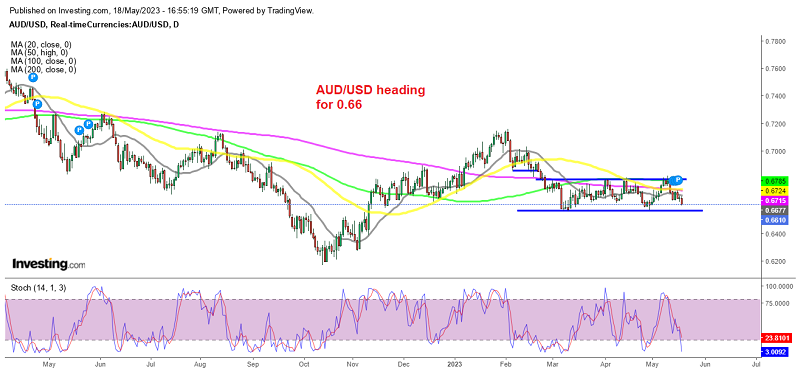 AUD/USD Heading for the Bottom off the Range on Softer Employment, Wages
In March, AUD/USD found stability, forming $2 range. That followed the retreat in February, as the US dollar regained some footing on the back of stronger US economic data. Since then, this currency pair has been trading within this range, with resistance around 0.68 and support below 0.66. Last week, there was a reversal at the resistance level, and yesterday sellers reemerged after rejection at the 20-day simple moving average (SMA) on the daily chart.
Besides that, the Australian dollar weakened further during the week due to concerns regarding China's economic recovery, as recent data indicated a slowdown in activity. On Friday, the Australian dollar experienced a significant decline in the session following the release of disappointing labor market data for April. The economy saw a contraction in jobs, while the unemployment rate increased.
It's worth noting that despite the 2-point jump, the unemployment rate remains close to record lows. However, considering yesterday's data, along with the subdued wages data released yesterday and other signs indicating a slowdown in the Australian economy, it is likely that the Reserve Bank of Australia will have sufficient reason to pause at its upcoming meeting in June.
The weak employment report gives the RBA a reason to halt interest rate increases at the upcoming meeting which is scheduled in the first week of next month. This comes after the RBA caught the market by surprise with a 25 bps hike earlier in May. Market confidence for a pause is high, with the ASX RBA Rate Tracker indicating a 100% probability.
The RBA aims to gradually ease its rate hikes and guide the economy to a smooth landing, and a weaker labor market will certainly support that objective. However, for the RBA to consider another pause, inflation will need to continue decreasing and align with its goals. This is bearish for the Aussie and we are looking to sell retraces higher in AUD/USD. Below is yesterday's employment report:
Australia Employment Report for April
Unemployment rate for April 3.7% vs 3.5% expected
March unemployment rate was 3.5%
Employment change -4.5K vs 25K expected
Prior employment change was 53K
Part-time employment increased by 22.8K
More:
Employment to population ratio decreased to 64.2%.
Underemployment rate remained at 6.1%.
Monthly hours worked increased to 1,933 million.