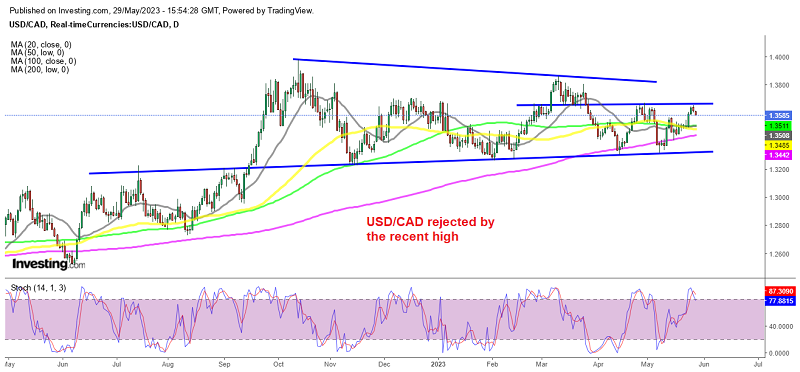 The 100 SMA Holds As Support for USD/CAD, But Price Remains Stuck
USD/CAD has been trading in a range since October last year, which is actually getting narrower as the lows get higher and the highs get lower. It seems that USD/CAD experienced a reversal on Friday last week, as buyers failed to push the price above the resistance zone at 1.3670. On the daily chart above, we can see that this pair has formed a resistance zone at this zone, which is around 1 cent lower from the March high and 2 cents lower from the October high. So, the highs are getting lower by 1 cent every time. At the bottom of the wedge, we have an ascending support level.
Today this pair fell below the soft support zone at 1.3600 during the early European session. This shift was indicating a weakening of the USD against the CAD, although most markets are closed today, s it's just normal price fluctuation. We decided to open a buy USD/CAD signal earlier on as the 100 SMA (green) was acting as support, holding the retreat. We saw a bounce off that moving average and the price approached our take profit target, but the 50 SMA (yellow) rejected the price and now the price has reversed back down to the 100 SMA.
USD/CAD H1 Chart – Can the 100 SMA Hold Again?
USD/CAD trading between two MAs today
One of the factors contributing to the slight bearish pressure for USD/CAD is the decline in appeal for the US Dollar Index (DXY), which can be attributed to the actions of US President Joe Biden. There were rumours earlier that Biden compromised the scale of spending initiatives proposed for the budget. This could imply that the size of the spending plans has been reduced or modified in some way. Additionally, it is mentioned that Biden is seeking approval to raise the United States borrowing cap limit to avoid default.
However, US Treasury Secretary Janet Yellen has already warned Congressional leaders that the Federal government could default on obligated payments by June 05. Overall, these developments, including the decline in appeal for the US dollar and the potential risk of default, are likely contributing to the selling pressure on the USD/CAD currency pair.