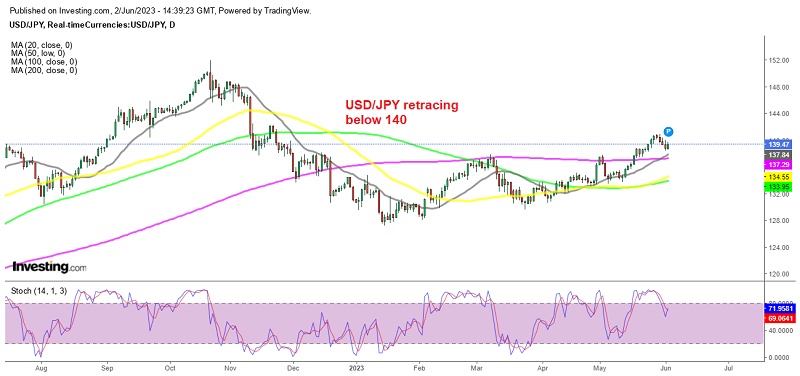 USD/JPY Heading for the 200 SMA at 137, on Softer US Inflation
USD/JPY surged higher last month, gaining more than 7 cents as expectations that the FED might continue to hike interest rates again placed a strong bid on the USD. But this week, market expectations have shifted towards a more dovish stance following statements from some officials suggesting a potential pause in interest rate hikes to assess the delayed effects of previous tightening measures. So, the probability of a 25 bps rate hike in June has been largely priced out by the markets, leading to a retreat in the value of the U.S. dollar.
From a technical perspective, USD/JPY reversed just below 141 earlier this week and yesterday it started to decline after failing to surpass the resistance level just above the 140.00 level. Sellers regained control, causing the price to retreat towards 138.00, which is currently a significant support level. If this support level is broken in the upcoming trading sessions, it could potentially encourage bears to target the 200 SMA (purple) on the daily chart which comes just above 137 of even further down to the short-term trendline support near 135.90.
The ADP report released yesterday indicated stronger-than-expected hiring in the private sector of the United States. However, the positive impact of this data was partially offset by a significant downward revision of unit labor cost, which was lower than the forecasted rate for the first quarter (4.2% compared to the expected 6.0% and the previous figure of 6.3%). Additionally, the weekly jobless claims in the US came close to meeting expectations.
The ISM Manufacturing PMI ticked lower yesterday as activity fell deeper into recession, but the ISM Manufacturing prices showed a decline to 44.2 points in May, from 53.2 points in April, which showed that inflation is slowing in different sectors as prices fall. The decline in USD/JPY picked up further pace and the price slipped to 138.40s, but retreated 40 pips higher later. We are following the price action and might sell this pair if the bearish pressure persists. Today we are seeing a retreat in EUR/USD and NZD/USD as risk assets