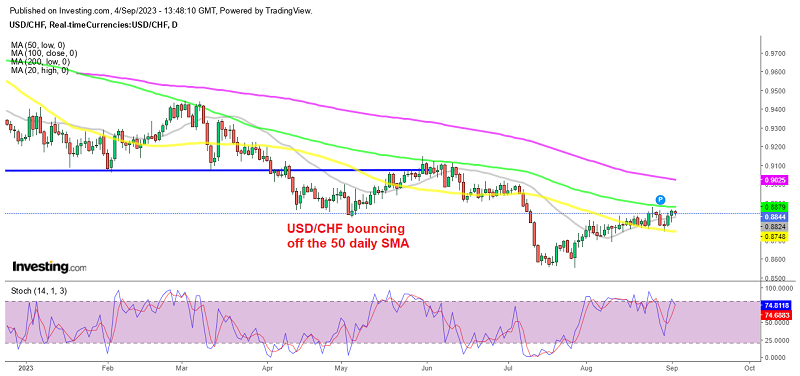 Going Long on USD/CHF As Swiss Economy Stagnates
USD/CHF tumbled lower from around 0.90 during the first half of July, falling to 0.8550s where it formed a support zone and consolidated in the second half. Last month USD buyers returned and this pair traded on a bullish trend, gaining more than 300 pips so far.
Trade tensions that have resurfaced between the United States and China could potentially boost the appeal of the traditional safe-havens, such as the Swiss Franc (CHF), and create difficulties for the USD/CHF buyers. Yesterday, the US Commerce Secretary Gina Raimondo highlighted "legitimate concerns" regarding Chinese investments in the United States.
Raimondo also emphasized the need for strong measures to protect the nation's national security. These developments may lead to increased demand for the Swiss Franc as investors seek refuge from the uncertainty surrounding the US-China trade relationship, which could in turn put pressure on the USD/CHF exchange rate.
Today we have seen a slight pullback in this pair which seems to have ended now. Although the GDP numbers from Switzerland showed a stagnation in Q2, which is another negative factor for the CHF. So, we should see this pair resume the uptrend soon.
Swiss Q2 GDP the Federal Statistics Office – 4 September 2023
The Swiss economy faced stagnation in the second quarter, and there is a rather pessimistic outlook for the current quarter, raising concerns about the possibility of a recession by the end of the year. There are indications that the Swiss National Bank (SNB) might consider implementing one last interest rate hike later this month in response to these economic challenges.
We saw a retrace on this pair early last week as the USD weakened, but the 100 SMA (green) turned into support on the daily chart. A doji candlesticks formed above that moving average and we saw a reversal higher. So, buyers are back in control and we decided to open a buy USD/CHF signal a while ago.
USD/CHF has been bullish since July but in the last several weeks it has been displaying uncertainty as geopolitics keep tensions high.
3 weeks ago