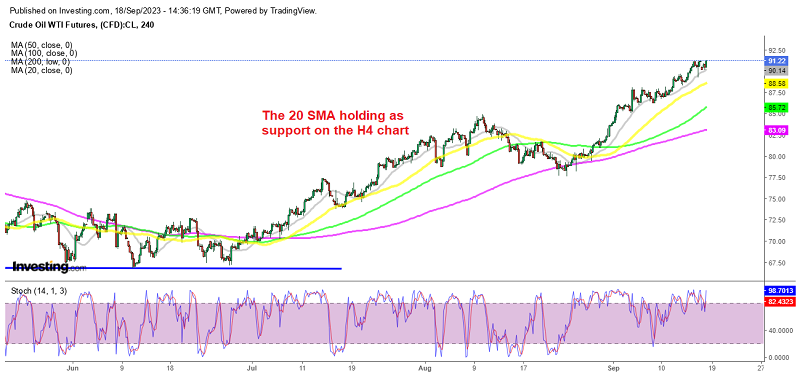 All Dips Bought in Crude Oil As It Breaks Above $91
Crude Oil had been bearish for around a year, until May when it started to stabilize around $70, before turning bullish in July. Buyers are still in control with every dip being bought, while smaller moving averages are acting as support on the H4 chart. By the middle of August, we saw a deeper pullback in crude Oil but the price reversed just below the 200 SMA (purple).
So, traders initially had a bearish outlook for crude Oil last month, anticipating a decline to around $67-68 per barrel after the summer. However, the sentiment has shifted, and some now believe that oil could reach $100 per barrel. This change in sentiment suggests uncertainty and divergence in market expectations, from bearish to bullish.
The global economy has been showing increasing weakness, but despite concerns about lower demand from Europe and China due to economic slowdowns, crude prices have continued to rally. This indicates that the rally is primarily driven by factors on the supply side rather than demand.
Saudi Arabia which is a key player in the Oil market, has been working to tighten the market by reducing exports, showing Saudi Arabia's interest in maintaining higher Oil prices. OPEC+ wants the prices to settle with the $100/barrel mark as a potential level of interest for them.
On the other hand, China is building up its Oil inventories, which could potentially affect the supply-demand balance. The US economy is performing well but that won't affect the demand too much.
The passage suggests that sustained high oil prices could pose challenges for central banks and result in a "higher-for-longer" interest rate scenario.
Although crude Oil is not stopping as the price of US WTI peaked above $91 late last week, and every time it has retreated lower, the 20 SMA (gray) has been acting as support, sending the price bouncing back up above this level. This means that the buying pressure remains strong on dips and we are trying to get long on crude Oil as well.