Fantom (FTM) Price Prediction for 2022: A Market Leader in the Making?
Last Update: January 11th, 2022
Fantom (FTM) – Forecast Summary
Fantom Forecast: H1 2022


Price: $4-$5
Price drivers: post-COVID-19 recovery, Technical indicators, Crypto market sentiment

Fantom Forecast: 1 Year


Price: $5-10
Price drivers: DeFi popularity/gamification, crypto market regulation, and public acceptance

Fantom Forecast: 3 Years


Price: $10-20
Price drivers: Larger DeFi market, More Use cases for Traditional industries, Metaverse

Fantom was originally founded in 2018 by Dr. Ahn Byung Ik, a South Korean computer scientist. With his team of developers, engineers, scientists, and entrepreneurs, they were able to develop this smart contract platform which is used primarily, but not limited to, Decentralized Finance (DeFi). Fantom (FTM) has been in the cryptocurrency headlines for its amazing run this year. Till date, it has gone up 17,000% in a year and seems to be emerging as one of the so-called "Ethereum Killers" alongside Cardano (ADA), Solana (SOL), and Polkadot (DOT) due to its inherently faster and more efficient technology. 
Fantom is built upon a consensus mechanism, "Lachesis", which according to their white paper, is the engine that powers the platform and makes it considerably faster, more scalable, and more secure than most blockchains. The Fantom platform was built seemingly as a response to Ethereum's slow and expensive transaction processing capabilities. Fantom boasts the capability to do thousands of transactions in seconds. And in this fast-paced world we live in, Fantom's use cases are crucial in merging the virtual and physical world as a faster and cheaper alternative to Ethereum. 
Recent Changes in the FTM/USD Price
| | | | |
| --- | --- | --- | --- |
| Period | Price | Change ($) | Change % |
| 1 Month | 2.026 | 1.053 | 52% |
| 2 Months | 1.494 | 1.585 | 106% |
| 3 Months | 0.320 | 2.759 | 862% |
| 6 Months | 0.618 | 2.461 | 398% |
| 1 Year | 0.018 | 3.061 | 17003% |
Factors Affecting Fantom
Cryptocurrency regulation and Fantom adoption
Looking at a macro view, cryptocurrency adoption and regulation will be a major factor that can affect Fantom's price appreciation or depreciation in the future. As more and more institutional money comes into the large-cap cryptocurrencies like Bitcoin and Ethereum, smaller-cap coins like Cardano (ADA), Solana (SOL), Avalanche (AVA), and of course Fantom (FTM) are starting to feel the trickle-down effect of this acceptance. 
Fantom (FTM) is currently the 33rd largest cryptocurrency with a market capitalization of $7.22B with a circulating supply of 2,545,006,273 FTM and a max supply of 3,175,000,000 FTM. It can be bought and traded in most top crypto exchanges like Binance. 
Stiff Competition with Similar Coins
In general, the macro adoption of cryptocurrencies will definitely fuel Fantom's adoption by the public. The question now will be, how will it fare against other similar coins? Will Fantom's speed and inexpensive mechanism be enough of a deciding factor that would make it a leader in the cryptocurrency markets?
Similar coins like Solana (SOL), Cardano (ADA), Polkadot (DOT), Polygon (MATIC), Avalanche (AVAX) all have smart contract capabilities and provide fast and inexpensive solutions to compete against Ethereum (ETH). Given this, Fantom (FTM) indeed has a lot of competition in the crypto space; however, this does not mean that being the top cryptocurrency is the only definition of winning. The digital world is so vast that Fantom (FTM) and other cryptos can have their own place in various industries and niches. As long as the technology works well, I believe the public adoption of the Fantom crypto and platform could definitely be a success in the future. 
Fantom Price Prediction for the Next Three Years
Real-World Digitization Solutions 
Looking further into the future, I believe that Fantom (FTM) can definitely hit 4-5X in the next three years. The main needle-mover is its application and how it presents itself as a real-world solutions provider when it comes to the digitization of traditional industries such as Finance/Banking, Real Estate, Healthcare, Education, Supply chain, etc. According to Fantom's website, they believe that they are "the ideal platform to develop global solutions using blockchain technology". 
Financial Markets: Digital Assets, CBDC, Clearing / Settlements
They believe that financial markets can benefit from Fantom's technology when it comes to creating, distributing, and authenticating digital assets which could help digitize the current fiat monetary system. 
This furthermore could help give central banks all over the world the ability to create their own central bank digital currencies (CBDCs) backed by the traditional monetary system. Under the Fantom platform, local bank and interbank clearing and settlements could be done in seconds, making transactions faster, cheaper, and simpler for the common folk. 
Decentralized Finance: Global Accessibility 
Fantom also provides the ability for anyone to be part of the relatively new digital finance ecosystem by participating in "DeFi" or Decentralized finance. This is a new set of financial tools that is now accessible to almost anybody with access to the internet. People can save, lend, and stake their tokens to be able to earn more than just leaving their money in traditional savings accounts. And with Fantom, this can be done faster and cheaper as well.
Real Estate Tokenization 
Tokenization is similar to mining non-fungible tokens (NFTs), except that the digitized asset has a real-world, physical asset tied to it. Unlike most NFTs in the market today which are purely digital, Fantom provides the ability for the real estate industry to be able to tokenize their physical real estate assets and make them digital. This would then help widen their client audience from just local investors that could actually see the physical asset to global investors as well. This could also make the real estate market more liquid and attractive to investors in the secondary markets. 
Post-COVID: Smarter Healthcare for Everyone
Living through the COVID-19 pandemic where science and healthcare have been at the forefront and spotlight, we were able to see clearly how important smart healthcare can be to both the patient and the healthcare providers.
The Fantom platform can also help the healthcare industry by integrating it into the blockchain. This then could help authenticate and securely store sensitive patient data and confidential pharmaceutical formulas. This could also help make transactions and data sharing faster and more efficient. 
Smarter Supply Chain Management
Aside from healthcare, the supply chain industry could also benefit from Fantom's platform. By using blockchain technology, supply inventories can easily be updated in real-time in a large network. Each item can be authenticated to prevent counterfeits and theft. This could greatly help business operations as it makes everything efficient, up-to-date, and transparent in a global blockchain network. 
Digitization of the Real-World and the Metaverse
What would drive FTM 4-5X higher would be its real-world adoption by the digitization of physical assets into digitized forms. Digitizing and tokenizing physical assets with the intent to be more accessible to everyone globally would drive Fantom's usage even more. This could be further exacerbated by the fact that the talks of creating the "Metaverse" have already sprung up by Facebook's Mark Zuckerberg. The "Metaverse" is a revolutionary, augmented, virtual world where people can communicate and interact online as if in the physical world but instead everything is digital. This emergence of the Metaverse would fuel the need for more tokenization and digitization of physical assets, therefore, raise the demand for Fantom's platform. 
FTM Technical Analysis: Key Takeaways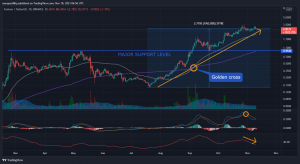 Fantom (FTM): Up 1,700+% from late July's lows
FTM staged a strong recovery after trading below the 200-day moving average (purple line) last June to July and it has not looked back since then. It even rallied above the key psychological resistance level of $1.00 last September. It has been in an uptrend for months already and has run up to more than 1,700% from July. But as of today, it would seem that a proper consolidation is in order. 
A recent MACD cross down appeared and it would suggest that a correction or pullback to near support levels is what is likely for Fantom. Its momentum indicator, Average Directional Index (ADX), also shows signs of momentum slowing down. This may be the breather that FTM needs before it resumes its uptrend towards new highs again late this year. As long as FTM does not fall back below $0.95 to $1.00 levels you could consider its major uptrend intact. 
If you are looking to enter into a position in FTM, look for entry points as it pulls back to key support levels such as the 50-day moving average (gray line) or even the $1.00 psychological support level.