There are a lot of economic events related to forex today: the RBA (Royal Bank of Australia) interest rate decision, the Chinese manufacturing data, the BOJ (Bank of Japan) meeting this morning, and the great UK manufacturing report this morning. The Canadian GDP report and the US manufacturing data will be published later this afternoon. 
But, lest we forget the Kiwi, the New Zealand unemployment rate, and the labor cost index in the evening. But before that, there was the global dairy trade (GDT) auction. Last month the dairy prices rose by 1.4% but that wasn´t good enough for NZD traders. Just for the record, it came from a 3% decline in the previous month. 
There´s no market expectations or consensus when it comes to the GDT price, simply because it is an auction and you never know how thing will evolve in an auction. It is really important for the Kiwi and the NZD pairs though. New Zealand is a major exporter of dairy products as well as lamb meat and wool. So being a relatively small country, the dairy products account for a considerable portion of the country´s GDP.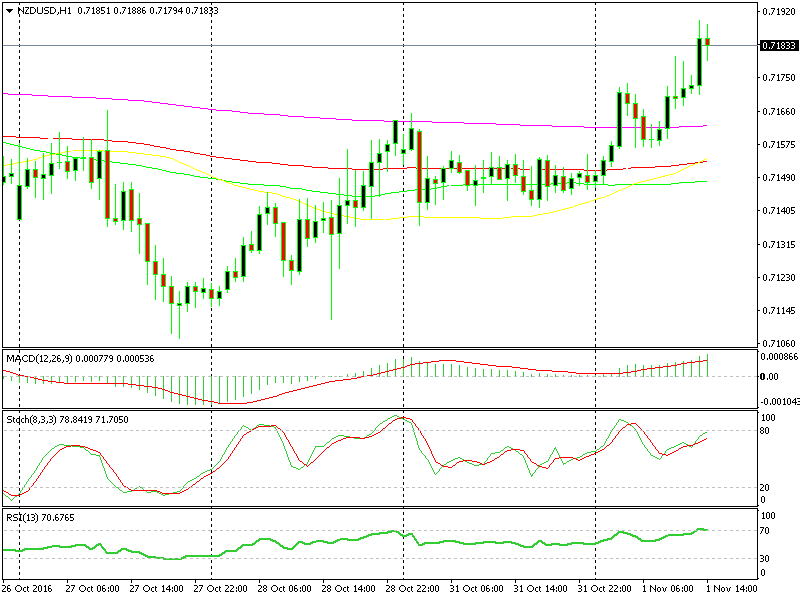 Tha dairy prices would be lower if you bought the NZD 20 pips lower, right? 
Keep an eye on the economic calendar today because the auction might be over at any minute. By the way, NZD/USD made a 20 pip jump about an hour ago. Is there a leak? Wait, I forgot this was an auction. The final price can´t leak, unless someone who intends to buy large amounts of dairy is buying NZD.