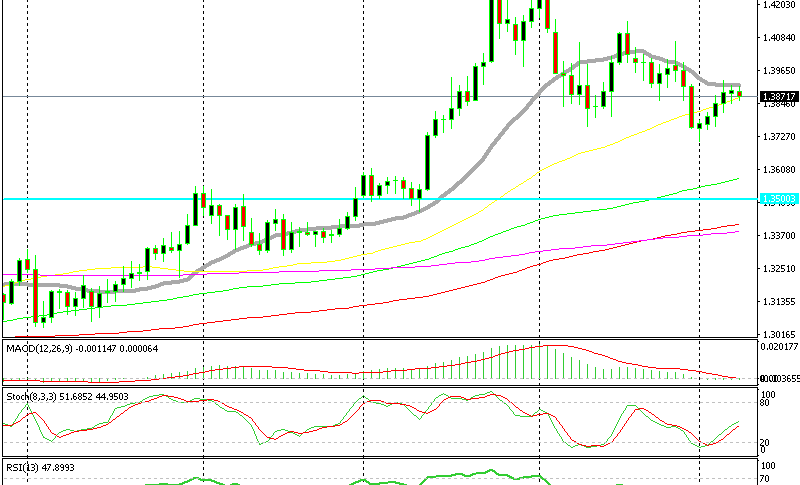 USD Trying to Get Some Momentum
The US Dollar has been beaten up pretty bad in the last week or so as it has lost considerable ground against most major currencies during this time. Trump's tariffs and peace talks from North Korea have damaged the USD.
But today, the Buck is trying to pick itself up. EUR/USD has dipped back below 1.24 and it is forming a bearish chart formation on the daily timeframe. Although, we will take a better look at this forex pair in the next forex update.
The 20 SMA is working well as resistance
GBP/USD has turned back below 1.39 in the last few hours. The 20 SMA (grey) has provided resistance this week and yesterday's candlestick closed as a doji. That is a reversing signal after the retrace higher and that formed right below the 20 SMA.
So, there is a bearish setup forming up on this pair as well. The price got pretty close to the take profit target of our short term forex signal in this pair, but it missed it by a few pips. Although, the pressure is still down.
Commodity currencies are not feeling that well either. They have seen some strong bids in the last few days, but today they are slipping lower. NZD/USD and AUD/USD are headed lower. We still hold the long term sell forex signal in AUD/USD, which now is about 140 pips in profit.
So, the USD is trying to fight back. In the last month, the declines in the USD have been weaker than the jumps. This time it looks the same, the USD lost some ground in the last week, but that was pretty minimal compared to what we have seen last year and it is picking itself up already. Perhaps the uptrend of the last few weeks will resume again.