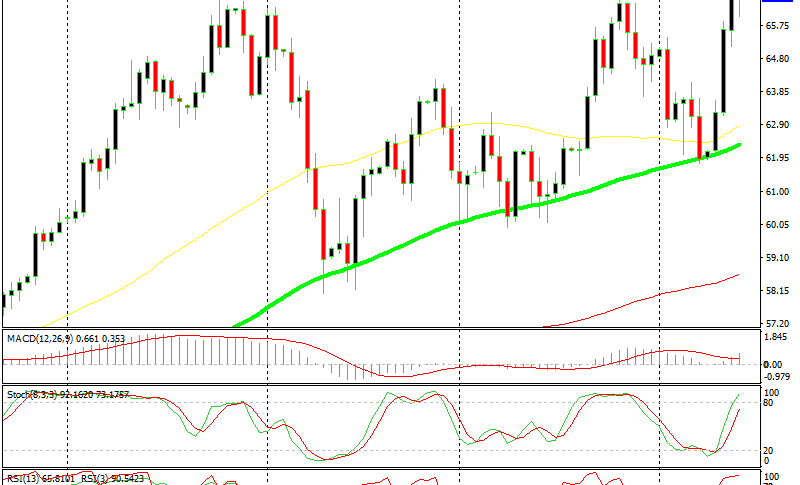 Oil Remains Bullish, Keeping USD/CAD Subdued
US Oil has been on an uptrend for about a year, but the uptrend stalled in the last two months. Oil formed a resistance area around 66.50-60 during thus time on the top side, but the downside continued to move higher. That indicated that the uptrend continued, albeit slowly.
Early this month, Oil retraced lower, but the 100 SMA (green) stopped the decline. This moving average has been providing support in February and March, pushing the lows higher, thus keeping the uptrend in place. The price reversed higher once more after meeting the 100 SMA and it has been on a strong bullish trend all week.
If you switch to the hourly chart, you can see that the sellers had a go today, but the 50 SMA stopped them short and Oil turned bullish again as the daily candlestick suggests. Another strong bullish sign for Oil is the break of the resistance. Oil is trading above $67 now and if it close there, then this will be considered a proper break, which will leave Oil very bullish.
Looks like the resistance will be broken
If Oil is bullish, the CAD is bullish too, meaning that USD/CAD remains bearish. USD/CAD has been pretty bearish for quite some time, but the buyers attempted a reverse today. that happened at the same time as the sellers were trying to push Oil down.
The 20 SMA (grey) is catching up with the price
Oil sellers failed and so did USD/CAD buyers. This forex pair remains bearish and is about to close the day near the lows. That's good for us since we have a sell forex signal here which is well in profit.