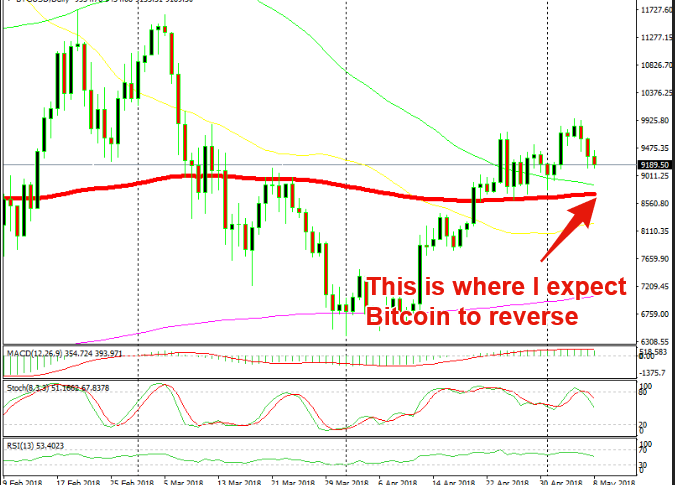 Bitcoin Breaks the Range and Heads for the 100 SMA 
Bitcoin and major cryptocurrencies have been trending up for a month now. The uptrend has been consistent, a move north followed by a smaller pullback lower, rinse and repeat several times. That sort of price action brought Bitcoin up, close enough to the major support and resistance level at $10,000.
It started to reverse back down yesterday, so it seems like the $10,000 level was the aim for buyers. Now, Bitcoin is in the middle of a bearish move. But, I see this move as a retrace before the next move up. After nearly doubling its value in just one month, I think that the time for a refresh was due. Every uptrend needs a refresh now and then.
If you remember yesterday, Bitcoin was stuck between two moving averages on the H4 chart. Today, the moving average that was at the bottom, gave way to the sellers and Bitcoin slipped lower. The price got pretty close to the $9,000 level but has managed to slightly pull back up.
Although, I think there's still more room to the downside. The stochastic indicator is headed down but it is not oversold yet. The target for me on this retrace is the 100 SMA. By the time we reach the 100 SMA (red), stochastic will be oversold so the pullback will be complete. The trend will be refreshed and the upside will likely resume again. We might go long on Bitcoin down there, although, we must get down there first. Then, we will re-assess the price action before pulling the trigger.