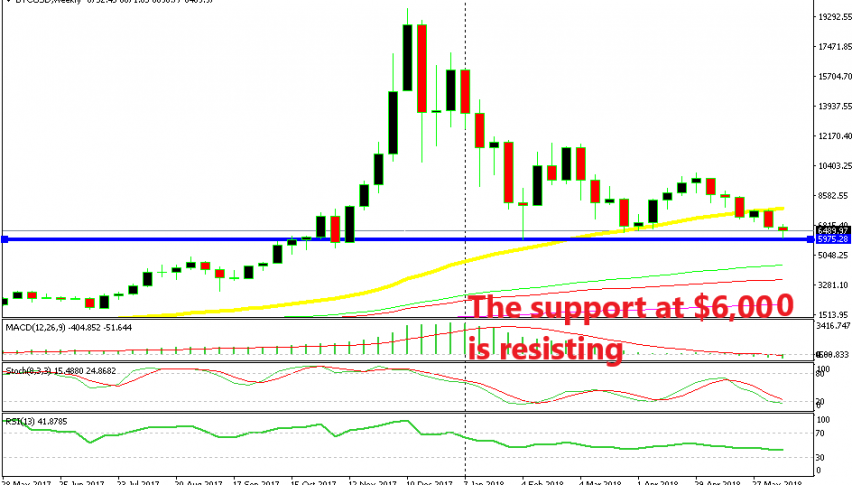 The 50 SMA Let Go in Bitcoin, but the Support at $6,000 is Still Holding
Bitcoin has taken a bearish dive in the last two months. It had bounced off the 50 SMA on the weekly chart back in April after forming a doji candlestick right above that moving average and was climbing up nicely for several weeks.
But, the sellers returned come May and the bearish trend resumed again. The 50 SMA had provided solid support twice during the major declines so I thought that it might survive again three weeks ago. But as we know, the third time is a charm and the sellers managed to break the 50 SMA this time.
That was the last major technical support that is visible on the charts. But, there is one last support level which is still resisting. The level comes at around $6,000 and it seems like it is holding. The sellers reached that level on Wednesday according to my cryptocurrency broker, but the price bounced off that area. Now, Bitcoin is around $500 higher.
Now, the weekly candlestick looks increasingly like a doji, or a small hammer, or a pin. All of these are reversing indicators. The week still needs more than two days to close since the cryptocurrency market remains open during the weekend too.
Although, if the weekly candlestick closes as one of the indicators I mentioned, then this might be a sign for a bullish reversal, or at least for a decent pullback higher. If so, then we might open a buy forex signal with a stop below $6,000, hoping that the support will protect us.