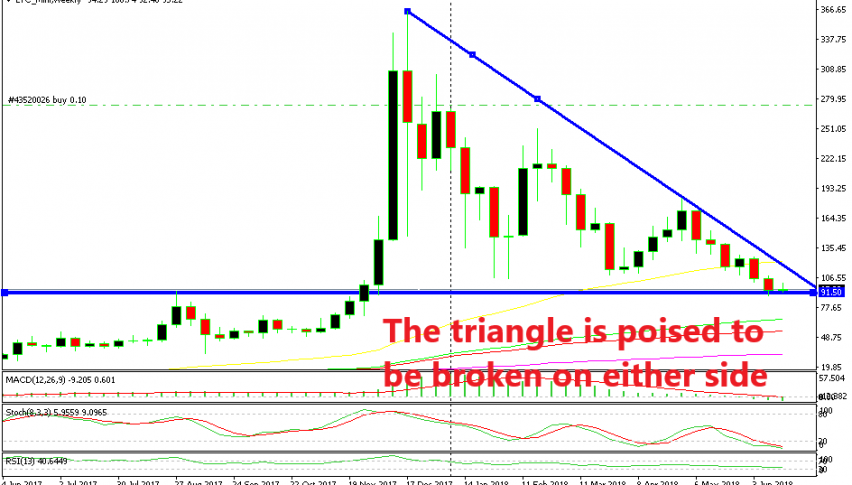 A Triangle is Forming in Litecoin
Cryptocurencies have been declining during the last six months in what seems to be a constant downtrend. The reverse came as a surprise after the strong rally at the end of last year. This year, major cryptos such as Bitcoin, Ethereum and Litecoin have been strictly following a bearish trend.
There have been bounces, but the sellers have returned as different governments keep tightening the regulation on cryptocurrencies. Although, Bitcoin has reached a support level where it has stopped, for now. The low so far for Bitcoin has been $6,000 this year. The price has neared that level a few times in the last several months but the support seems to hold.
Litecoin has broken the lows as you can see from the weekly chart. But there is one more support and resistance level for Litecoin. That level comes at $90 with a $2-$3 buffer zone around it. That level was the high back in August last year and it has now turned into support.
In fact, the price has formed a triangle on the Litecoin weekly chart. The descending trend line has now met the horizontal line and the trading range is getting very narrow. The triangles point to a breakout, especially now when Litecoin heads for the tip of the triangle.
What direction will the break be? Who knows. The pressure now is definitely on the downside. But, with the support level holding in Bitcoin and in other major cryptos, we might as well see a meaningful bounce or a proper reverse from here. Anyhow, we have to wait for the break of the triangle first to see what side it will be, then we can think about taking a trade on that direction. Until then, we have to play the waiting game.