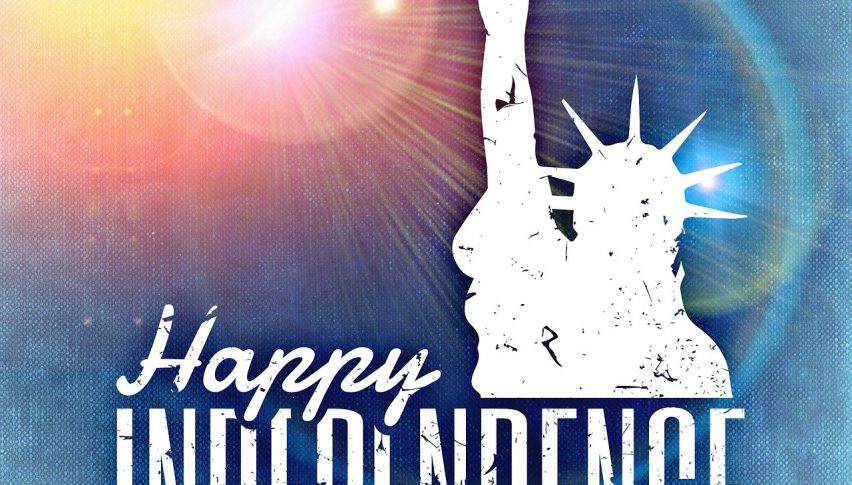 July 04 – Economic Events Outlook – U.S. to Enjoy Independence Day
Posted Wednesday, July 4, 2018 by
Arslan Butt
• 2 min read
What's up, fellas.
Happy Independence Day to our followers from the United States. The U.S. banks will remain closed in observance of Independence Day. So, the advance non-farm payroll data will be released tomorrow on Thursday. Investors are also anticipating the release of the Federal Reserve's June meeting minutes on Thursday and U.S. NFP data on Friday to confirm policymakers' forecasts for two more rate hikes this year.
The volatility can remain low during the U.S. session. Looks like a good chance to capture price action trades. Take a look…
Watchlist – Top Economic Events to Watch Today
EUR – Services PMI Figures
The Eurozone is due to release the series of services Purchasing Managers' Index (PMI). Honestly, these economic events mostly go mute.
How and why PMI figures impact the market?
Purchasing Managers' Index is positively correlated with interest rates. Early in the economic cycle, an increase in the supply of money leads to additional spending and investment, and later in the cycle expanding money supply leads to inflation. Do check FX Leaders News Trading Strategy to trade fundamentals profitability. 
Spanish Services PMI

Italian Services PMI

French Final Services PMI   

German Final Services PMI

Final Services PMI
The standard benchmark for these figures is 50. Above 50.0 indicates industry expansion, while below that indicates contraction in the industry. Fortunately, all of the figures are expected to be greater than 50 which is sort of good for single currency Euro.  
GBP – Services PMI – 8:30 (GMT)
Likewise, we will get to trade services PMI data from the U.K. It's a survey of purchasing managers which asks respondents to rate the relative level of business conditions including employment, production, new orders, prices, supplier deliveries, and inventories.
The figures are expected to remain unchanged at 54 vs. 54 previously. Sterling is likely to remain supported over this as the services PMI is holding above 50.
However, any divergence in the value will give us an opportunity to capture a quick movement in Sterling pairs. In the end, I would like to remind you that the U.S. markets are likely to exhibit thin trading volume and the market may choose to trade sideways even on the release of news. So, let's execute small trades for quick take profits today. Good luck!