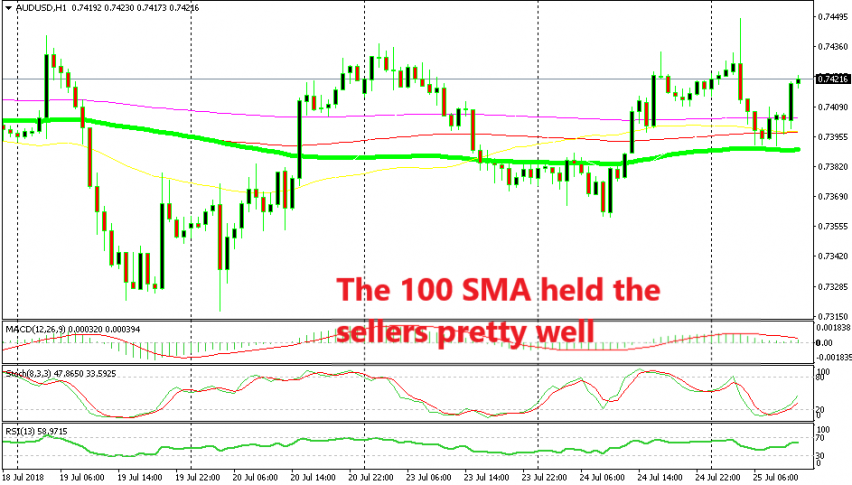 AUD/USD Bounces off the 100 SMA After the Dive Following the Australian Inflation Report
The commodity Dollars made a bullish reversal yesterday in the US session as the USD entered another bearish phase. AUD/USD continued that trend during the first few hours of the Asian session until the Australian CPI inflation report was released.
As my colleague, Rowan – who covers the Asian session, highlighted, the inflation figures were pretty much in line with expectations. The core CPI (consumer price index), or trimmed mean CPI as it is known in Australia, came at 0.5% QoQ. The main headline CPI number came at 0.4%, the same as the last reading, but a tick lower from expectations, which stood at 0.5%.
That scared off AUD/USD buyers for some time and this forex pair made a quick reversal lower. AUD/USD lost around 60 pips from top to bottom today but it stopped right at the 100 SMA (green). The sellers made several attempts to break this moving average, but all attempts ended right there at the 100 SMA.
It seemed like a bullish reversing setup was forming on the hourly chart. The price formed a couple of hammer candlesticks in the last two hours and the following candlestick ended up pretty bullish. Now this pair is around 30 pips higher as the USD goes another round of selling. As you can see, moving averages are really good support and resistance indicators, so make use of them guys, particularly the 50 SMA, 100 SMA and the 200 SMA.
The US consumer is softening as intertest rates go up, which is a factor for the USD retreat and for the FED to stop hikes
14 hours ago