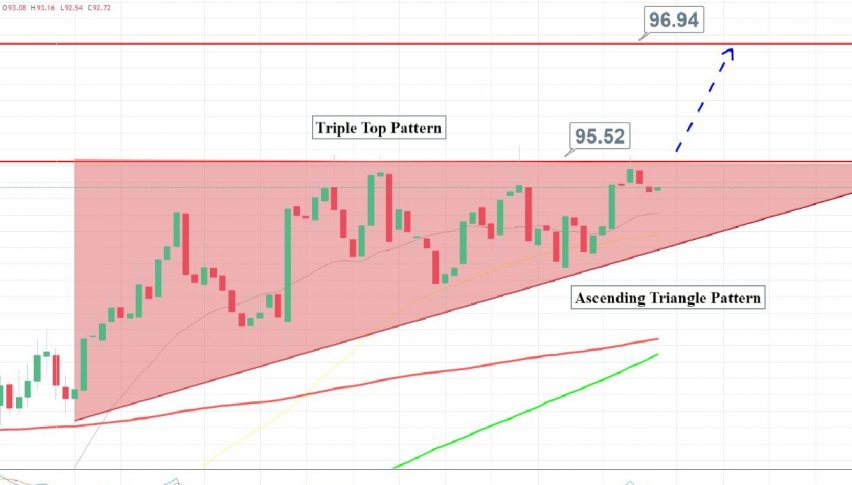 Aug 09 – Economic Events Outlook – Can Dollar Index Violate Ascending Triangle on PPI today?
Posted Thursday, August 9, 2018 by
Arslan Butt
• 2 min read
What's up, fellows.
The Greenback has declined since hitting a three-week high on Monday as investors priced in the better than expected average hourly earnings and unemployment rate. But the trade war between China and the U.S. is keeping the dollar in check. Today, there are no real data scheduled for release through the day except in the U.S. economy, leaving the market uncertain regarding which way to move. In this update, we are going to plan our day and we'll see what best we can trade while the trading volume and volatility remain thin on the back of the summer holidays…
Watchlist – Key Economic Events
As we spoke earlier, the Greenback was a bit lower after the U.S. Trade Representative's office stated the U.S. would begin collecting 25% tariffs on another $16 billion in Chinese goods which will be in force by August 23. The uncertainty peaked when China countered saying the U.S. should be ready for a tit-for-tat situation as China has pledged to counter in equal measure.
PPI m/m – USD
At 13:30 (GMT), the Bureau of Labor Statistics will be releasing its Producer Price Index. Economists are expecting a slight drop in the figure from 0.3% to 0.2%. Fellas, this can keep the dollar index under bearish pressure. However, if the PPI data beats the forecast by 0.4% or 0.5% then we may have a nice buying opportunity in the dollar.
Core PPI m/m – On the other hand, core PPI is also expected to dip from 0.3% to 0.2%. By the way, it shows a change in the price of finished goods and services sold by producers, excluding food and energy.
Unemployment Claims – USD
I will be monitoring the jobless claims at 13:30 (GMT) today. As per economists' forecast, the data is expected to be sort of neutral which makes it more important for us. Any major divergence on either side (positive or negative), will determine the trend of the buck today.
US Dollar Index – Daily Chart
Looking at the intra-day chart of DXY, you can see the dollar index has reached below a major horizontal resistance level of $95.45. Actually, it's a part of an ascending triangle pattern which earlier extended bullish trend to the dollar above $94.45.
As we know, the chances of a bullish breakout remain very high in case of an ascending triangle pattern. The dollar has come very close to the triple top resistance of $95.45, and all it needs is one good fundamental to gain a bullish momentum and it will be all set to go after $96.10 and $97.25.
Today and tomorrow are very crucial as investors will be ready to act upon PPI figure and the long-awaited inflation data on Friday. Stay tuned to FX Leaders for more updates. Good luck!