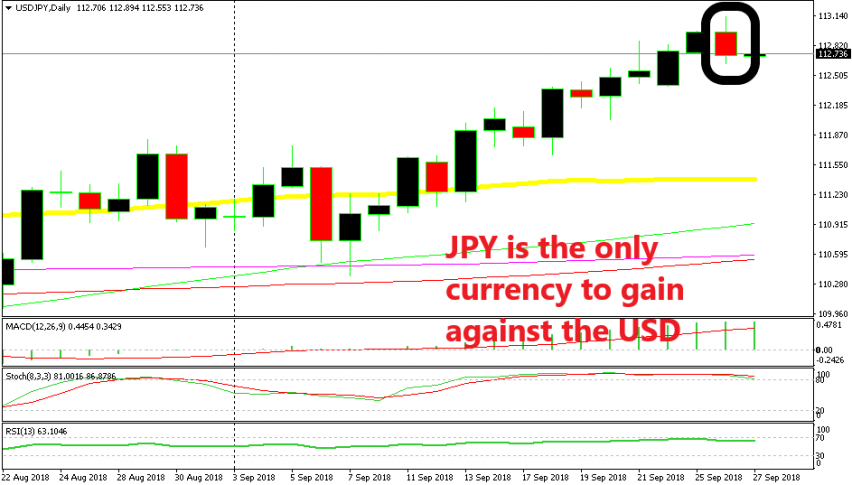 JPY the Biggest Winner After the FED
Posted Thursday, September 27, 2018 by
Skerdian Meta
• 1 min read
Finally the big event of the week is over. The FED meeting yesterday took most major pairs on a rollercoaster ride, up and down, although the volatility wasn't that big as many traders were expecting. The reason for that was that the statement and the press conference left forex traders a bit confused.
FED's Chairman Jerome Powell said that the economy was doing good but growth is not spreading in all sectors of the economy as fast they would have wanted. On the other hand, they removed the accommodative sentence from the statement, which means that they might be close to being neutral. That in return means that future rate hikes might come at a slower pace.
The USD lost some 30-40 pips right after the statement was released together with the rate hike decisions. But, it reversed and ended the day more or less unchanged. USD buyers had a go this morning and the Buck gained against risk currencies such as the Euro and Commodity Dollars.
Although, USD/JPY slipped lower yesterday after the meeting and it made some new lows this morning during the Asian session. This means that the market is a bit confused whether to buy the USD now or not. So, they are just going where they feel safer, to the JPY as an ultimate safe haven.
We should have seen some strong bids in the CHF as well, but the Swiss National Bank made it clear last week that they will intervene if the CHF gets too strong. This is the main theme in the forex market right now- the market is confused after the FED meeting and it is finding refuge in the JPY at the moment.