The cryptocurrencies market continues its downtrend. The overall market cap dropped seven percent during this week. Sitting at 114b, it is not far away from being a double-digit market cap again. Although this would be lower than the lowest point since September 2017, it is still more than ten times higher than the market cap of 14b at the start of 2017.
According to their website, Cryptopia was hacked on 14th of January and is now investigated by the police. Exchanges could possibly act as victims of hacking attempts while they steal their costumer's money.
Those exit scams are easily covered up since there are many possibilities to let cryptocurrencies disappear. This makes it important to be very cautious when using non-verified exchanges.
It is strongly advised to take all your money out of all not well-established cryptocurrencies exchanges. I personally only trust Kraken and Binance. Even Bitfinex was suspected to be insolvent and out of liquidity.
With the continuation of the bear trend, it might be only a matter of time until exchanges are stopping their services, as liqui.io also announced they will stop running their exchange. In addition, the previously covered blockchain project XEM, which is the world's 18th largest cryptocurrency by market capitalization, is nearly broke and lacks developers, as the President of the NEM foundation, Alex Tinsman, told Coindesk in an interview.
While all of this makes cryptocurrencies less and less attractive for investors, traders might be still interested in trading the volatile currencies.
Without further ado, let's start with the technical analysis of the most interesting cryptocurrencies of the week.
BTC/USD DAILY CHART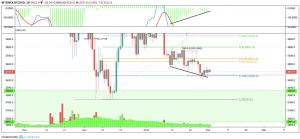 Bitcoin dropped nearly five percent this week and bounced off the 0.786 fib level. While the RSI is not giving a clear signal, the MACD shows a bullish divergence with the histogram's low ticking higher. While this is a bullish sign, the lack of bullish momentum and the decreasing volume does not indicate further upward movement. If Bitcoin surges, it will most likely get rejected by the golden pocket zone at $3625. If Bitcoin falls below the 0.786 fib level it finds its next support around $3000-$3300.
ETH/USD DAILY CHART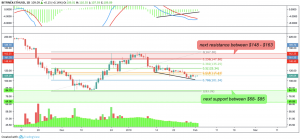 Ethereum is doing pretty much the same as Bitcoin but with more volatility. It declined more than ten percent this week and almost reached the 0.786 fib level at $101. With the golden pocket zone around $112 acting as additional resistance, it seems unlikely that ETH reaches its next bigger resistance at around $150. Although the MACD performs a bullish divergence, the steadily decreasing volume and the overall bearish sentiment indicates that Ethereum is on its way to its next support between $68 and $85.
TOTAL MARKETCAP WEEKLY CHART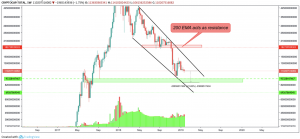 The overall market cap is still in a bullish falling wedge and on its way down to the trendline support. While MACD and RSI indicators are neutral, 93b could be an interesting target to watch because there is also strong support slightly below the trendline. This would mean the overall market cap drops another 15 to 22 percent, which would simultaneously result in the RSI reaching oversold regions. Therefore, we could assume a decent upside movement as soon as the target is reached.
To conclude, it doesn't seem like the bear market is coming to an end. In fact, the overall bearish market could last longer than ever expected. The lack of real use-cases of the blockchain & institutional interest could prolong the bear trend until regulations are established. The fear of using shady exchanges makes investing in cryptocurrencies even less attractive. If the volume decreases further, it is only a matter of time until traders lose interest too. If the cryptocurrencies do not want to suffer a prolonged bear market, there must be a catalyst to kickstart renewed interest.