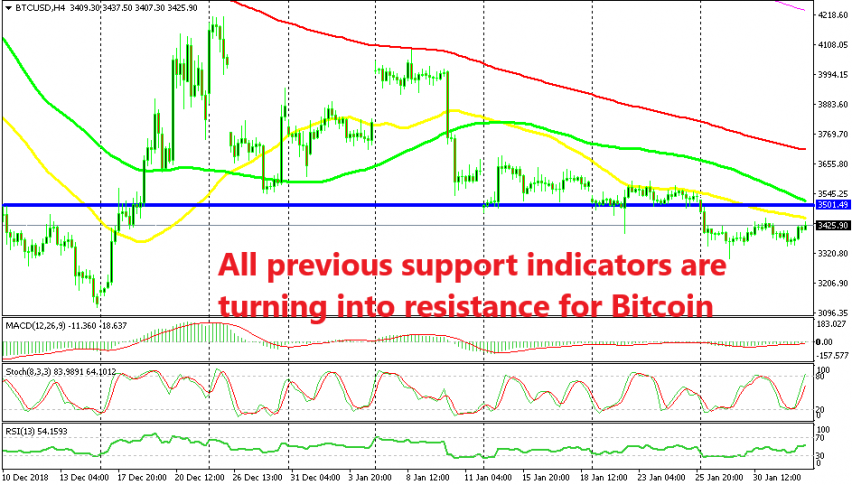 The $3,000 Level in Bitcoin is Bound to Go
BITCOIN and other major cryptocurrencies have been declining for more than a year now after Bitcoin failed to break above the $20,000 level. Now, Bitcoin is just a shadow of itself as it has lost around 85% of its value and the volatility has decreased dramatically with the crypto market in general losing its appeal.
Bitcoin has broken support after support level since it made the major bearish reversal in December 2017. First, it was the big round support at $10,000 to go, then the area around the $6,000 held for for a long time, but the highs got lower and the break finally came.
The $5,000 level gave way pretty quickly but the price bounced off the the area around the $3,000 level in December. So, that has turned into the ultimate support for Bitcoin now, but after the price action of the last couple of months, we think that this level is in danger.
The 50 SMA (yellow) and the 100 SMA (green) were providing support at first until the middle of January but they got broken and now they have turned into support. The previous support at $3,500 was finally broken last week and now that has turned into support.
What's next in sight for sellers? The ultimate support at $3,000, which seems like it will be broken sooner or later, but rather sooner since the sellers are looking for any excuse to embark on shorts. The 50 SMA has already moved below the $3,500 support-turned-resistance level and it is this moving average which is providing resistance now. So, $3,000, here we come.