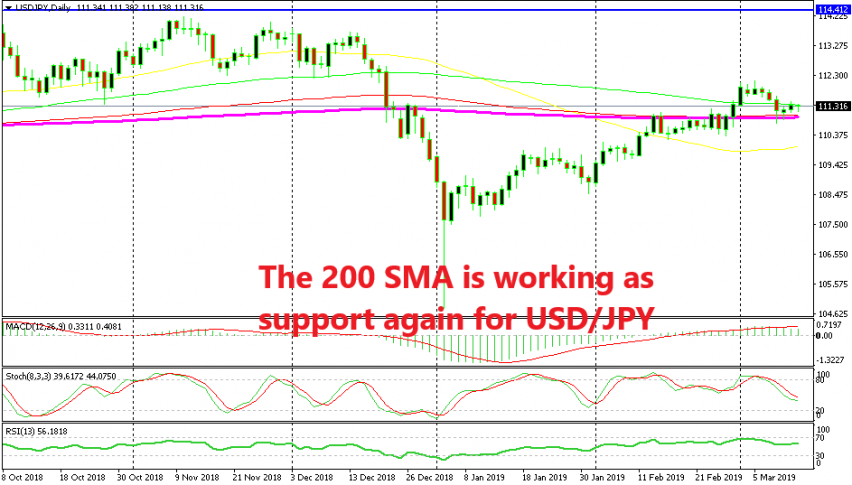 Decisive Time for USD/JPY, Turn Bearish or Remain Bullish?
USD/JPY turned bullish on the second trading day of this year after it lost more than 4 cents earlier that day. Since then the trend has been really straightforward; push higher, make a small retrace lower and then continue higher again, rinse and repeat. The price broke 1.10, 1.11 and 1.12.
Although, last week the sentiment turned negative in the financial markets as three major central banks turned dovish with the ECB and the OECD revised growth and inflation predictions lower for 2019 and 2020. That goes for the major economies as well as for the global economy.
As a result, risk assets such as stock markets declined, while safe havens such as the JPY increased. Hence the bearish reversal in USD/JPY last week. But, this just might be a retrace before the next bullish move higher. The price fell to the 200 SMA (purple) last Friday.
This moving average provided resistance during most of February and now it is possible that it turns into support. The 100 SMA is hidden below the 200 SMA, so the support is going to be stronger if that's the case. These two moving averages stand at 1.11 which is also a big round number, so the bullish reversal seems increasingly probable now. But, the stochastic indicator is not oversold yet, which means that the retrace lower is not complete. But, who knows, the support might be stronger than the bearish momentum.