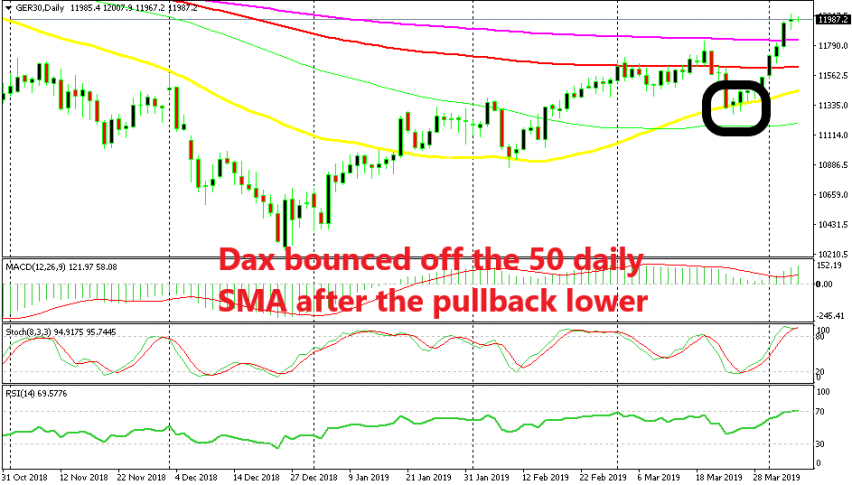 The Uptrend in Dax Continues as Sentiment Remains Positive in Stock Markets
Stock markets made a steep reversal two weeks ago as sentiment turned pretty negative in financial markets after the dip in Eurozone manufacturing PMI that week. That decline in stock markets looked like the beginning of another crash, but looking at the daily chart, it was just a normal pullback.
The pullback for DAX ended at the 50 SMA (yellow) on the daily chart, which has provided support in February as well. At the same time, the stochastic indicator became oversold, which meant that the retrace lower was complete. The uptrend resumed after that and finally, the 200 SMA (purple) was broken.
This means that the uptrend is still in full swing. Yesterday, the price formed a doji candlestick which is a reversing signal, so there is a chance for a pullback lower since the daily chart is overbought now. If that's the case, then I would look to buy at the 200 SMA, since it is supposed to turn from resistance into support now.
The 50 SMA has caught up already with the price on the H1 chart
Yesterday Donald Trump threatened Mexico with auto tariffs if they didn't help stop immigration and drug smuggling into the US, which hurt the sentiment a bit and stopped stock markets from making further gains, so a pullback is on the cards.
In fact, the 50 SMA which has been providing support before on the H1 time-frame has caught up with the price in DAX. If this moving average breaks, then that would be a sign of a proper pullback on the daily chart. So, we are following the price action, hoping for a retrace lower in order to go long in the coming session.