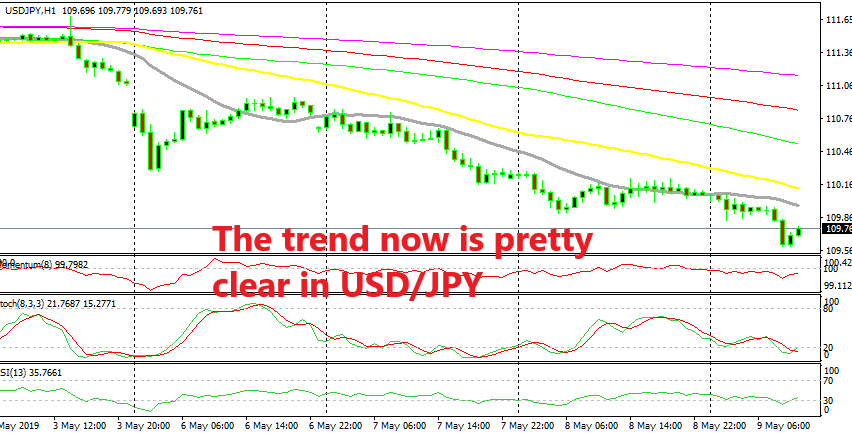 The Pressure to the Downside is Strong on USD/JPY as Smaller MAs Remain in Control
USD/JPY was trading on a bullish trend in the first two months of this year after the crash we saw at the end of 2018, but the trend stalled in the last two months and this pair traded sideways since early March. That was a sign that the buyers were getting exhausted and now the buyers have given up on their agenda.
At the end of last week, the price started to turn bearish but it wasn't certain that the trend was turning bearish because USD/JPY was still within the range of recent weeks. But on Monday, this pair opened with a 40 pip gap lower and during this week the downside has stretched for another 100 pips down, so now it is clear that the trend has changed.
The traffic has only been in one direction this week after the escalation of the tariffs war between the US and China over the weekend, and the retraces higher have been very weak. In fact, the pullbacks have been so minimal that even the 50 SMA (yellow) is not able to catch up with the price as sellers keep pushing lower.
When smaller period MAs such as the 20 SMA (grey) are in charge as in this case, the pressure and the trend is quite strong. So, if we open a signal here in the next two days. it will surely be a sell signal. We're just waiting for a small retrace higher now before pulling the trigger.
Core PCE inflation ticked higher to 4.7% this month, which should keep the FED hawkish and the USD bullish
3 days ago