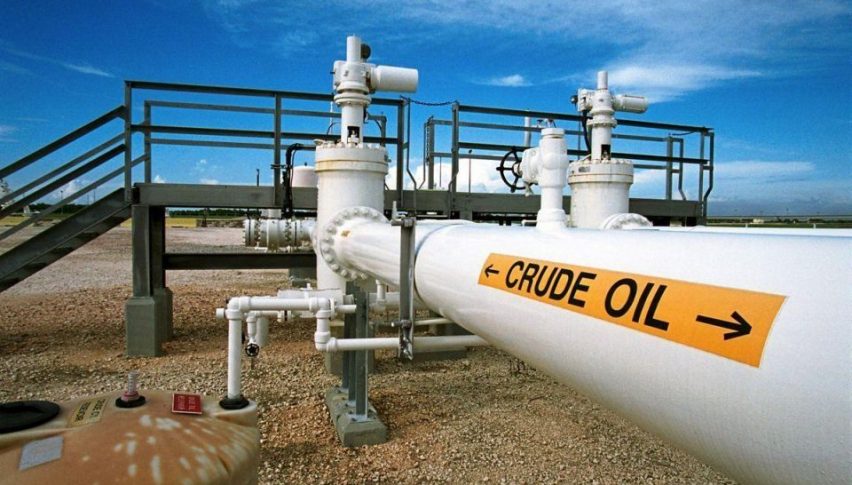 US Session Forex Brief, May 14 – Tensions Increase but Markets Remain on Hold Today
In the previous weekend, Donald Trump tweeted about higher tariffs on China after the Chinese had backtracked on promises to the US and he didn't wait long to slam new tariffs on China, which took effect towards the end of last week. As a result, the market sentiment was negative last week although it improved a bit yesterday during the European session. But, China announced retaliation yesterday and it placed tariffs on $60 billion worth of US goods. That hurt the sentiment further as markets now realized that the comments from both sides weren't just words, instead, the trade war that we thought was coming to an end is escalating once again. Besides that, we heard US officials comment on tariffs for European cars yesterday and the decision will be made at the end of this week.
Today, China commented that it is not afraid of US tariffs and Trump responded with a tweet a while ago saying that the US is in a fantastic position to continue this trade war, so everything is pointing to further escalation. On top of that, tensions are arising in the Middle East once again as some identified drones hit Saudi Arabia's Oil pumping stations, which the Saudi Oil minister said were the Yemenis. As a result, Crude Oil has turned bullish now, although other markets are pretty quiet today, probably waiting on more news regarding the trade war. The unemployment rate ticked lower again in Britain, but so did earnings. Although, the pace of growth remains solid in earnings.
European Session
UK Average Earnings Index 3M/Y – Earnings have been increasing pretty fast in Britain and they peaked at 3.5% in January and February as the reports released in the last two months have shown. But earnings were expected to tick lower to 3.4% in March from 3.5% in the first two months of this year. The pace of growth in earnings slows down to 3.2% in March against 3.4% expected and down from 3.5% in February. Average weekly earnings excluding bonus comes slightly better at 3.3% against +3.3% expected 3m/y. So, earnings cooled off but they still keep growing at a very decent pace.
UK Unemployment Rate – The unemployment rate was expected to remain unchanged at 3.9% but we saw an unexpected decline in the unemployment rate from 3.9% to 3.8%. Employment change declined to 99k against 140k expected and down from 179k previously. Jobless claims change for April come at 24.7k, slightly lower from 28.3k previously. So unemployment ticked lower once again in the UK with jobs growing, which means employment is in good shape.
German ZEW Economic Sentiment – The economic sentiment has been on a deteriorating trend throughout last year in Germany until it bottomed out at -25 points in December and since then the sentiment has improved. Last month it even turned positive, coming at 3.1 points. This month the sentiment was expected to improve further and post 5.1 points, but it turned negative again, missing expectations and coming at -2.1 points, which means that the situation is still pretty bad in Germany.
Eurozone Industrial Production – Industrial production has been pretty weak in the Eurozone, similar to the manufacturing production. During the last 12 months, production has declined most of the time and last month's report showed a 0.2% decline which was revised a bit higher to -0.1% today. But this month's report showed another decline of 0.3% for March which is as expected.
China Doesn't Want a Trade War but Isn't Afraid of One – Now comments from both sides show that the trade dispute has turned into a trade war. Tariffs won't solve problems. It is natural to have disagreements in negotiations and hopes that US doesn't underestimate Chinese determination to protect its interests.
US Session
Trump Responds to China – Donald Trump started tweeting early today again after China decided to retaliate yesterday. Below is the tweet.


"China buys MUCH less from us than we buy from them, by almost 500 Billion Dollars, so we are in a fantastic position. Make your product at home in the USA and there is no Tariff. You can also buy from a non-Tariffed country instead of China. Many companies are leaving China…..

….so that they will be more competitive for USA buyers. We are now a much bigger economy than China, and have substantially increased in size since the great 2016 Election. We are the "piggy bank" that everyone wants to raid and take advantage of. NO MORE!"

Saudi Oil Plants Attacked – Aramco pumping stations were attacked by drones earlier today and the Saudis blame Yemen's Houthis. They said that Oil production wasn't going to be affected at first, but later the Oil Minister Al-Falih commented that the East-West pipeline will be closed as a precautionary measure.
Italian Government Wants to Exceed the Deficit Limit –Italy's interior Minister Matteo Salvini said earlier that the government is ready to exceed 3% budget deficit limit to spur jobs. Salvini also says that the government is also ready to allow debt-to-GDP to surpass 130% to 140% if it is necessary to improve labour market conditions. Let's see what the European Commission has to say.
US Import Prices – Import prices have turned positive again after declining for a few months at the end of last year and the beginning of this one. They were expected to increase by 0.7% today, but the actual number came at 0.2% for April. The import price index excluding petroleum declined by -0.6% though against 0.2% expected. Import price index YoY also declined, coming at -0.2% vs +0.3% expected. Export price index +0.2% vs +0.6% m/m expected.
The trend remains bearish
The retrace higher is complete
The 100 SMA is providing resistance
Fundamentals are bearish

The 50 SMA has now turned into resistance
USD/JPY turned bearish at the start of last week, opening with a gap lower and we saw a similar gap this morning. The downtrend lost some pace at the end of last week as sentiment started to improve a little, but now the sellers are in charge again and they are pushing lower after China announced retaliation on $60 billion worth of US goods. USD/JPY retraced higher today and broke the 20and 50 SMAs, but the 100 SMA (green) provided resistance and now the price is reversing down.
In Conclusion
The situation keeps getting worse as China and the US get at each other's throats while tensions in the Middle East grow. But markets are pretty quiet today compared to what we have seen recently. It's only Crude Oil which has made a decent move, gaining more than $1, but now even Oil has calmed down. It seems like traders are waiting for something to get them going.
Core PCE inflation ticked higher to 4.7% this month, which should keep the FED hawkish and the USD bullish
2 days ago
USD/JPY continues to remain very bullish with smaller moving averages acting as support and now the price is approaching 140
4 days ago